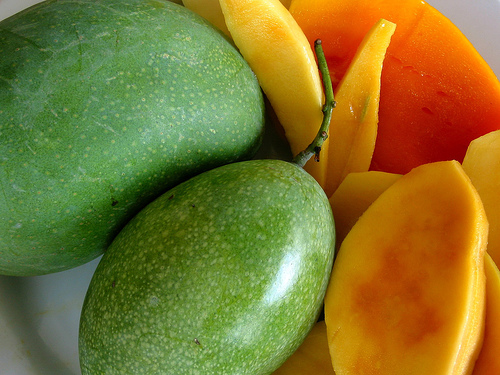 Ingredients:
Mangoes – 250 gms, washed, peeled
Green Chillies – 4 to 5, slit
Pepper Powder – 1 tsp
Turmeric Powder – 1/2 tsp
Salt – 1 tsp
Jaggery – 3/4 tblsp, grated
Curd – 500 ml, thick, whisked
Fenugreek Seeds – 1/4 tsp, dry roasted and powdered
Grind to a paste:
Grated Coconut – 1/2 to 1 cup
Cumin Seeds – 1/8 tsp
Water – 3/4 cup
For Tempering:
Coconut Oil – 2 tblsp
Mustard Seeds – 1/2 tsp
Dry Red Chillies – 1 to 2, broken into pieces
Fenugreek Seeds – 1/2 tsp
Curry Leaves – handful
Method:
1. Soak the mango skin in 2 to 2 1/2 cups of warm water for 30 to 45 minutes.
2. Squeeze out water from skin and reserve. Discard the skin.
3. Keep a pan over moderate heat.
4. Add the mangoes, green chillies, pepper, turmeric powder, salt and jaggery.
5. Cook over high heat for about 10 minutes, stirring from time to time.
6. Add curd and cook for 10 more minutes.
7. Reduce heat.
8. Add powdered fenugreek seeds and ground paste.
9. Simmer over low heat till gravy thickens.
10. Heat oil for tempering in a small pan.
11. Add the mustard seeds and when it starts spluttering.
12. Add the red chillies and fry for 30 to 45 seconds.
13. Add the remaining tempering ingredients and fry for a minute longer.
14. Pour the tempering into the curry.
15. Stir and mix well.
16. Serve with rice.