This South Indian style Onion Rice is a delicious and great option for a quick lunch, dinner or evening snack. Very simple to make with minimal ingredients, this onion rice also makes a great lunchbox item.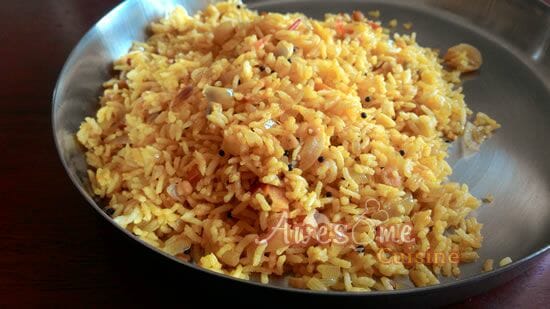 Ingredients:
Mustard Seeds – little
Green Chillies – 2
Dry Red Chillies – 2
Bengal Gram Dal – 1 tblsp
Onions – 3, big, chopped
Tomato – 2, chopped
Red Chilli Powder – 2 tsp
Salt as per taste
Oil – 3 tsp
Cooked Rice – 1 cup
Turmeric Powder – a pinch
Coriander Leaves – few, chopped
Method:
1. Heat oil in a nonstick frying pan over medium flame.
2. Add the mustard seeds, green chillies, red chillies and stir-fry for 30 to 60 seconds or until mustard seeds start to splutter.
3. Add the onions and saute until golden brown.
4. Add the tomatoes and cook for another minute.
5. Add red chilli powder, turmeric powder and the cooked rice.
6. Stir to mix well.
7. Add salt and mix until all ingredients are evenly combined.
8. After 2 minutes, remove from flame.
9. Garnish with coriander leaves.
10. Serve warm.