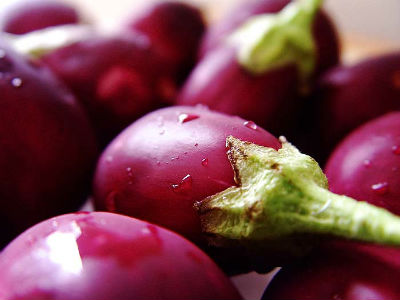 Ingredients:
Brinjals – 500 gms, seedless, cut into 1 inch pieces
Sambar Onions – 10, peeled
Tomatoes – 2, finely chopped
Coconut Milk – 1/2 cup thick + 1/2 cup thin
Tamarind Extract – 3/4 to 1 cup
Mustard Seeds – 1/2 tsp
Asafoetida Powder – a pinch
Cloves – 1
Turmeric Powder – 1/4 tsp
Jaggery – 3 to 4 tblsp
Coriander Powder – handful, chopped
Oil as required
Salt as per taste
Dry roast and grind to a powder:
Urad Dal – 1 tsp
Coriander – 1 tsp
Bengal Gram – 1 tsp
Toor Dal – 1 tsp
Dry Red Chillies – 6
Gasa Gasa – 4 tsp
Cashews – 3
Fenugreek – a pinch
Method:
1. Heat oil in a pan over medium flame.
2. Stir-fry the mustard seeds, asafoetida powder and cloves.
3. Add tomatoes, onions and brinjal pieces.
4. Saute for 2 to 3 minutes.
5. Add turmeric powder, salt, tamarind extract, jaggery and mix well.
6. Add the ground powder, thin coconut milk and mix.
7. Bring to a boil and add the thick coconut milk.
8. Simmer till the stew starts to thicken.
9. Stir well and simmer for a minute more.
10. Garnish with coriander leaves.
11. Remove and serve hot.