Mudakathan Keerai is a herb that is commonly used in Siddha Medicine and has many health benefits to it. It is used to improve resistance/immunity, treat body pain, leg/joint pain and many more. It is also called as Balloon Vine in English and Harive Soppu in Kannada.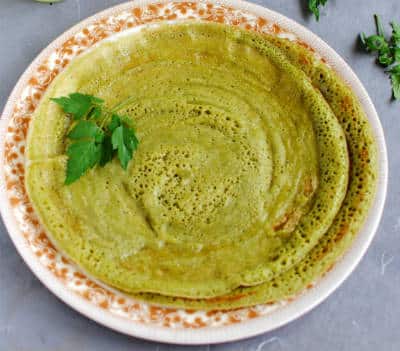 Ingredients:
Mudukuthaan Keerai – 2 cups, cleaned, washed, chopped
Parboiled Rice – 1 cup
Ulundu – 1 tsp
Fenugreek Seeds – 1 tsp
Toor Dal – 2 tsp
Oil as required
Salt as per taste
Method:
1. Combine the rice, ulundu, fenugreek seeds and toor dal.
2. Soak them for 1 hour and grind together with the keerai to a smooth batter.
3. Add salt to the batter and keep aside for 7 to 8 hours.
4. Heat little oil in a tawa.
5. Pour a ladleful of the batter and spread evenly.
6. Add little oil around the edges and cook on both sides.
7. Serve hot with side dish of choice.