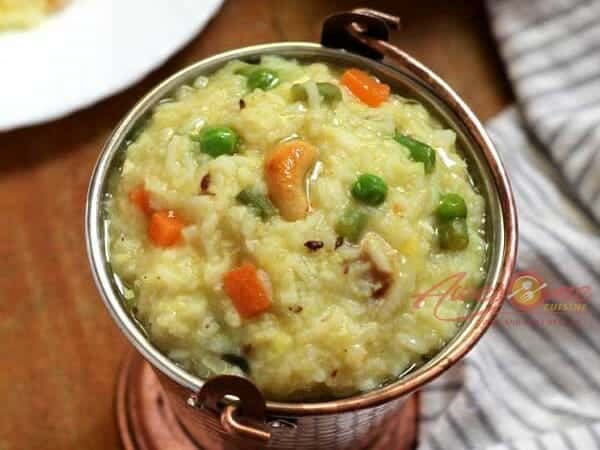 Ingredients:
Rice – 1 cup
Red Gram Dal (Arhar Dal) – 1/2 cup
Split Green Gram Dal (Moong Dal) – 1/4 cup
Onion – 1, finely chopped
Potato – 1
Beans – 6
Tomato – 2
Carrot – 1
Drumstick – 2, cut into finger length pieces
Coriander Leaves – 1 tsp, chopped
Curry Leaves – 1 tsp, chopped
Ginger – 1 one inch piece, coarsely chopped
Turmeric Powder – 1/2 tsp
Ghee – 1 tblsp
Pepper Powder – 1/2 tsp
Cumin Seed Powder – 1 tsp
Salt as per taste

Method:
Wash and cook the rice and dals separately.
Cut the vegetables into small pieces.
Pour half of the ghee in a pan.
Fry pepper and cumin seeds powder on by one.
Remove from the pan.
Add onion and fry.
Add all the vegetables and fry until they brown.
Mix the turmeric powder and salt.
Add the cooked rice, all the dals and remaining ghee.
Stir well.
Serve hot with sambar and coconut chutney.