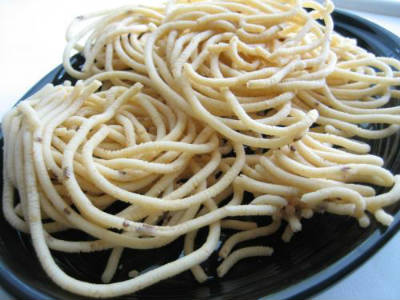 Ingredients:
Rice Flour – 1 cup
Urad Dal – 1 cup
Salt – 3/4 tblsp
Butter – 25 gms
Asafoetida Powder – 1/2 tsp
Black Sesame Seeds – 1 tblsp, soaked and drained
Oil – 250 ml
Water as requested
Method:
1. Lightly dry roast the urad dal till golden and grind to a fine powder.
2. Sieve the flour and keep aside.
3. Separately sieve the rice flour.
4. Add salt, sesame seeds, butter, asafoetida powder to the rice flour.
5. Add 1 tblsp dal flour and little water.
6. Mix well and keep aside for 12 hours for the batter to become sour.
7. Make balls of the dough and add them to a thenkuzhal maker.
8. Heat oil in a deep frying pan over medium flame.
9. Press the thenkuzhal press over hot oil.
10. Fry on both sides till golden brown.
11. Remove and drain excess oil.
12. Serve as a snack.
Note: image is for illustration purposes only and not that of the actual recipe.