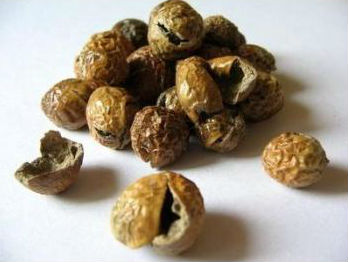 Ingredients:
Sundakkai Vatral – 1 tsp
Rice – 1 cup, cooked
Bengal Gram Dal – 1 tsp
Coriander Seeds – 1 tsp
Vendhayam (Fenugreek) – 1/4 tsp
Dry Chillies – 6
Tamarind Extract – 1 small cup or as required
Mustard Seeds – 1/4 tsp
Curry Leaves – few
Asafoetida Powder – a pinch
Turmeric Powder – a pinch
Gingelly Oil – as required
Salt as per taste
Method:
1. Heat little oil in a pan over medium flame.
2. Add the dal, dry chillies, coriander and fenugreek.
3. Fry for a 30 to 60 seconds and grind to a powder.
4. Add little bit more oil to the same pan and fry the mustard seeds, asafoetida powder, sundakkai vatral and curry leaves.
5. Add turmeric powder, tamarind extract and salt.
6. Mix well and bring to a boil.
7. Add the ground powder and simmer for 2 to 3 minutes.
8. Pour this over the rice and mix well.
9. Transfer to serving plates and serve hot.
Tip: Instead of sundakkai vatral you can also use manathakkali vathal.