A finger-licking appetizer for any parties or special occasions. Doubles up as a terrific snack for any week day/weekends.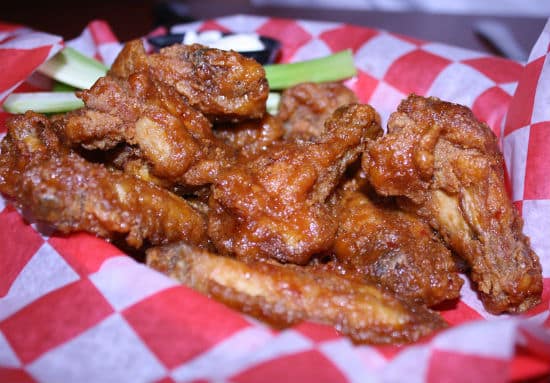 Ingredients:
Chicken Wings – 1 kg, halved at the joints and tips removed
Garlic – 2 cloves, finely chopped
Peanut Butter – 125 gms
Cumin Powder – 3/4 tblsp
Lemon Juice – 1/4 cup
Red Chilli Flakes – 1 1/2 tsp + little extra
Coriander Leaves – few, chopped, to garnish
Salt as per taste
Warm Water – 125 ml
Method:
1. Mix the peanut butter, garlic, lemon juice, red chilli flakes and cumin powder in a bowl.
2. Pour 125 ml of warm water and whisk well.
3. Sprinkle some salt and whisk again.
4. Add the chicken wings and mix well.
5. Ensure the wings are coated evenly.
6. Cover and keep it in the fridge for 2 to 4 hours or overnight.
7. Heat a grill pan over medium flame.
8. Grill the marinated chicken wings for 10 to 20 minutes or until cooked through, turning from time to time.
9. To check if the wings are cooked, insert a skewer or knife in the thickest part and if the juices run clear it is cooked.
10. Sprinkle coriander leaves on top.
11. Serve with dipping sauce of choice.