A delicious, easy to make savoury muffin ideal for breakfast, brunch or evening snack.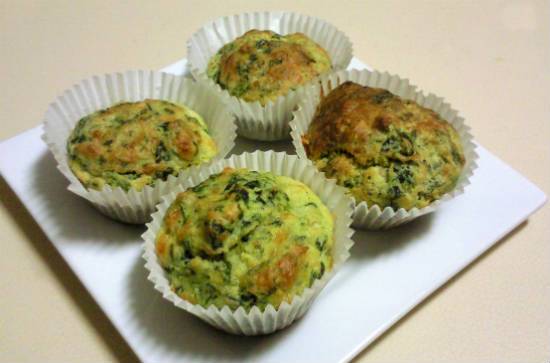 Ingredients:
Milk – 1/4 cup
Cream Cheese – 400 gms
Salt – 2 tsp
For the batter:
Plain Flour – 1 kg
Parmesan Cheese – 150 gms, grated
Baking Powder – 1 tblsp
Cheddar Cheese – 200 gms, grated
Red Chilli Powder – 1 tsp
Olive Oil – 200 ml
Eggs – 5 to 6, large or 8 to 10, medium
Spinach – 250 gms, finely chopped
Sesame Seeds – 1 tsp
Salt as per taste
Method:
1. Mix the cream cheese, milk and salt in a bowl for the filling.
2. In a separate bowl add the milk, flour, baking powder, parmesan cheese, cheddar cheese, red chilli powder and mix well.
3. Sprinkle a little salt and mix again.
4. Mix the olive oil and beaten eggs in an another bowl.
5. Add this to the batter along with spinach leaves and mix well.
6. Pour the batter into the muffin tin until 2/3rds.
7. Place a dollop of the filling on each and top up with remaining batter.
8. Sprinkle some sesame seeds and place it in a preheated oven at 200C/400F.
9. Bake for 30 minutes or until golden.
10. Remove, cool and serve.