Gongura Thokku is a popular Andhra dish where gongura leaves (pulicha keerai in Tamil / sorrel leaves in English) are ground to a coarse paste with tamarind, ginger and garlic. Best served with rice, idli or dosa. Gongura leaves are rich in vitamins, minerals and anti oxidants.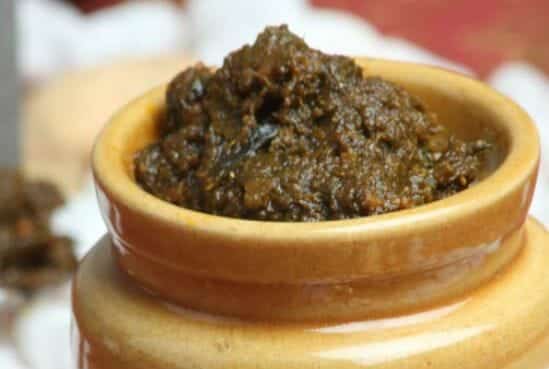 Ingredients:
Gongura Leaves – 2 bunches
Tamarind – 1/2 cup, seeds removed
Jaggery – 1/4 cup
Mustard Seeds – 2 tsp + 2 tblsp
Garlic – 10 to 12 cloves, finely chopped
Ginger – 1 tsp, grated (optional)
Fenugreek Seeds (Vendhayam) – 2 tsp
Dry Red Chillies – 18 to 20
Oil as required
Salt as per taste
Method:
1. Wash and clean the gongura leaves.
2. Spread it out to dry for 60 to 75 minutes.
3. Heat oil in a pan over medium flame.
4. Add the red chillies, 2 tblsp mustard seeds, fenugreek seeds and fry for 2 minutes.
5. Add the gongura leaves and saute for 2 minutes.
6. Remove and transfer to a mixer jar.
7. Add the tamarind, garlic salt and jaggery.
8. Grind to a coarse paste.
9. Heat little oil to a pan.
10. Fry the 2 tsp mustard seeds and pour over the thokku.
11. Mix well and serve with rice and ghee or a side dish with idli or dosa.
image via grand sweets