A simple evening/teatime snack, vadas are extremely popular across India, especially South India, where it is often served with different varieties of chutney.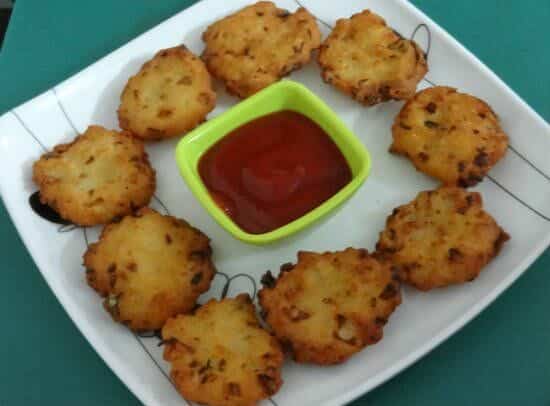 Ingredients:
Bombay Rava – 2 cups, sieved
Urad Dal – 1 tblsp + 1 tblsp
Black Peppercorns – 1 1/2 tsp
Cumin Seeds – 1 1/2 tsp
Ghee – 1 tblsp
Salt – 1 tsp
Asafoetida Powder – 1 tsp
Rice Flour – 2 tblsp
Oil – 250 ml
Curry Leaves – few
Method:
1. Soak 1 tblsp of dal in water for 15 to 30 minutes.
2. Fry the remaining 1 tblsp dal till golden and grind to a powder.
3. Combine and grind the peppercorns and cumin seeds to a coarse powder.
4. Combine the rava, urad dal, salt, asafoetida powder, cumin peppercorn powder and ghee in a bowl.
5. Add the ground dal powder and enough water.
6. Mix well and keep aside for 45 minutes.
7. Add curry leaves and mix well again.
8. Take a small ball of the dough and lightly dip them in rice flour.
9. Roll it into small puris.
10. Heat oil in a pan over medium flame.
11. Fry the vadas till light golden brown and remove.
12. Drain excess oil.
13. Serve.