Spice Up Your Dishes with Easy Homemade Enchilada Sauce!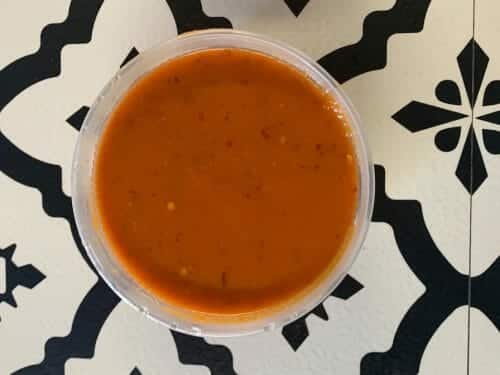 Homemade Enchilada Sauce is a versatile gem that effortlessly transforms your dishes into sensational delights. Picture this: a rich, velvety blend of tomato paste, aromatic spices, and a touch of cumin and oregano, all coming together to ignite your taste buds. Whether you're a fan of classic enchiladas, crave savoury tacos, or seek to drizzle excitement over your favourite Mexican dishes, this sauce is your culinary secret weapon.
This recipe's genius lies in its simplicity. In a sizzling pan, sunflower oil dances with flour, resulting in a golden roux that forms the backbone of the sauce. A symphony of red chilli powder, garlic powder, and cumin joins the stage, whisking you away to a world of bold flavours. As vegetable stock weaves its magic, tomato paste steps into the limelight, embraced by the warm embrace of oregano and a sprinkle of sea salt.
Simmer and stir, a dance of textures and tastes. Witness the alchemy as the sauce gently thickens, a testament to your culinary prowess. Imagine enchiladas bathed in this sauce, or tacos dripping with its essence. The possibilities are endless, and your creations will beckon your taste testers for more.
Pair this sauce with other Mexican marvels like Chicken Tacos, Beef Burritos, or Veggie Quesadillas. Let your culinary adventures flourish with the allure of Homemade Enchilada Sauce. It's the secret ingredient that turns ordinary into extraordinary, making your meals unforgettable.
Serving Size: Approximately 2 cups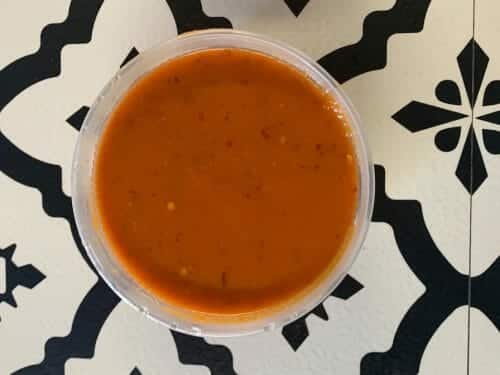 Homemade Enchilada Sauce
Spice Up Your Dishes with Easy Homemade Enchilada Sauce!
Ingredients
1/4

cup

Tomato Paste

1 1/2

tbsp

Sunflower Oil

1 1/2

tsp

Maida (Plain Flour)

3

tsp

Red Chilli Powder

1/2

tsp

Garlic Powder

1/2

tsp

Cumin Powder

1 1/4

cups

Vegetable Stock

1/2

tsp

Dried Oregano

Sea Salt

to taste
Instructions
Heat oil in a pan over medium flame.

Add flour, whisk until lightly browned.

Add chilli powder, garlic powder, and cumin. Whisk well.

Pour in vegetable stock.

Add tomato paste, oregano, and a sprinkle of salt.

Mix well and simmer.

Stir occasionally until slightly thick and smooth.

Remove from heat.

Store in a clean, airtight container.

Stays fresh for up to 4 days in the fridge.
FAQs:
Can I use this Enchilada Sauce for other dishes?
Absolutely! This versatile sauce pairs perfectly with Chicken Tacos, Beef Burritos, or Veggie Quesadillas, enhancing their flavours and making your meals even more delectable.
How spicy is this sauce?
The red chilli powder adds a pleasant kick, but you can adjust the spice level to your preference by adding more or less.
Can I freeze this sauce for later use?
Indeed! Freeze it in small portions, so you always have a burst of homemade flavour on hand. Just thaw and enjoy whenever you crave a touch of deliciousness.