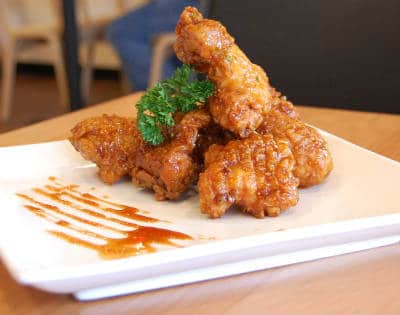 Ingredients:
Chicken Drumsticks – 250 gms
Salt as per taste
Oil as required
Cornflour – 3/4 cup, mixed with 1/4 cup of water
For the Soy Garlic Glaze:
Light Soya Sauce – 2 tblsp
Chinese Cooking Wine – 1 to 2 tblsp
Honey – 1 tblsp
Water – 1 to 2 tblsp
Brown Sugar – 2 tblsp
Garlic – 1/2 tsp, finely chopped
Ginger – 1/4 tsp, grated
Cornflour – 1 tsp, mixed with 1 tblsp water
Method:
1. Mix all the glaze ingredients in a bowl, except cornstarch.
2. Transfer to a pan over medium flame.
3. Simmer for 3 to 4 minutes or until sugar has fully dissolved.
4. Add the cornstarch and cook until it starts to thicken.
5. Remove and keep aside in a warm place.
6. Heat oil in a deep frying pan.
7. Sprinkle salt on the chicken and roll them in the cornstarch.
8. Add them to the hot oil and deepfry for about 6 to 8 minutes.
9. Remove and keep aside for 5 minutes.
10. Add them to the pan and fry for another 5 minutes.
11. Drain excess oil.
12. Transfer the fried chicken to a bowl with a tightfitting lid (or use a resealable bag).
13. Add the soy garlic glaze and toss well until evenly coated.
14. Remove and serve.