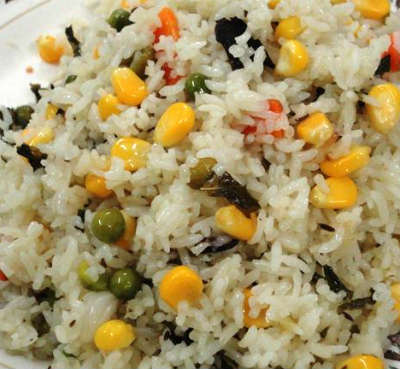 Ingredients:
Basmati Rice – 2 cups, soaked for 15 to 20 minutes
Coconut Milk – 4 cups
Sweet Corn Kernels – 4 cups, cooked
Green Peas – 1 cup, shelled (optional)
Oil – 5 tblsp
Salt as per taste
Bay Leaf – 2
Cinnamon – 2
Cloves – 2
Ghee – 1 tsp
Cashewnuts – few, fried
Grind together:
Red Chillies – 7 to 8
Green Chillies – 10
Garam Masala Powder – 1/2 tsp
Mint Leaves – 1 bunch, chopped
Coriander Leaves – 2 bunch, small, chopped
Ginger – 1 inch piece
Garlic – 8 to 10 cloves
Coconut – 5 tblsp
Cashewnuts – 20
Method:
1. Drain water completely from rice.
2. Heat 1 tsp of ghee in a frying pan and fry the rice for a minute or two.
3. Heat oil in a pressure pan.
4. Fry the bay leaf, cinnamon and cloves.
5. Add the ground masala paste and fry for 2 to 3 minutes.
6. Add the corn kernels, peas and coconut milk.
7. Bring to a boil.
8. Add the rice and salt.
9. Cover the pan with a lid and cook over low flame for 10 minutes.
10. Garnish with fried cashewnuts.
11. Serve.