Indulge in the flavors of Eastern India with Ghugni Chaat, a vibrant street food delicacy featuring boiled peas, spices, and tangy chutneys. It's a perfect blend of bold flavors and textures, leaving you craving more.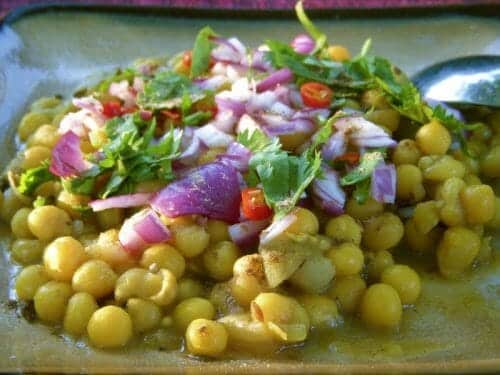 Ghugni Chaat is an iconic street food of Bengal. Also known as Kolkata Ghugni Chaat, this is a nutritious dish made with dried white peas, potatoes, cumin seeds, onion and spices.
Ghugni Chaat, a flavorful and vibrant street food delicacy, will tantalize your taste buds with its irresistible blend of textures and spices. This popular dish hails from the streets of Eastern India. It is loved for its unique combination of boiled peas, spices, and tangy chutneys. The dish showcases the region's rich culinary heritage, where street food is celebrated for its bold flavors and vibrant colors.
The star ingredient of Ghugni Chaat is tender and wholesome peas cooked to perfection and tossed with a medley of aromatic spices. The dish is then garnished with various toppings, such as finely chopped onions, tomatoes, fresh cilantro, and a generous squeeze of lemon juice. Each bite offers a burst of flavors, ranging from tangy and spicy to earthy and savory.
Ghugni Chaat can be enjoyed as a standalone snack or a filling meal when served with crispy puris or soft bread. Its versatile nature makes it a perfect choice for gatherings and parties, where it can be served as a crowd-pleasing appetizer or a wholesome evening snack.
Ghugni and Ragda pattice are mostly the same – the only difference is ghugni is sweeter than ragdi.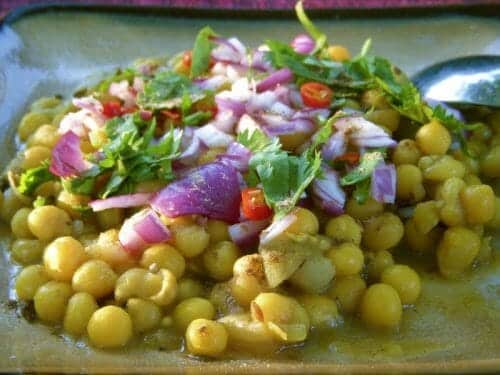 Ghugni Chaat
Indulge in the flavors of Eastern India with Ghugni Chaat, a vibrant street food delicacy featuring boiled peas, spices, and tangy chutneys. It's a perfect blend of bold flavors and textures, leaving you craving more.
Ingredients
1

cup

Dried White Peas

1

Big Potato

boiled, peeled and cubed

1

Tomato

chopped

1

Onion

medium, finely chopped

2

tbsp

Oil

as per taste

Salt

1

tsp

Cumin Seeds

2

tsp

Ginger

finely chopped
For Serving:
as required

Green Chutney

as required

Tamarind Chutney

as required

Chaat Masala Powder

handful

Coriander Leaves - handful

chopped

as required

Lemon Juice

1 or 2

Green Chillies

chopped

Potato Chips

optional
Instructions
Wash and clean the peas.

Soak them in water for 12 hours.

Drain the water.

Heat 1 tblsp of oil in a frying pan over medium flame.

Cook the potatoes until golden brown, approximately 5 to 10 minutes.

Sprinkle salt and mix well.

Remove and keep aside.

To the pan, add the remaining 1 tblsp oil.

Add the cumin seeds and saute for 30 to 45 seconds.

Add the chopped onions, ginger and cook for 3 to 5 minutes.

Add the chopped tomatoes and cook for another 3 to 5 minutes.

Add the fried potatoes and drained peas.

Pour 1 1/2 to 2 cups of water and allow it simmer. Cover the pan with a lid.

When the water has reduced and it starts to thicken (has a gravy-like consistency), switch off the flame.

Add salt and mix well.

Remove to a serving bowl.

Garnish with chaat masala powder, green chutney, tamarind chutney, green chillies and coriander leaves

Finally add the lemon juice and potato chips.

Serve at once.
Frequently Asked Questions (FAQ) about Ghugni Chaat
How is Ghugni Chaat different from other chaat recipes?
Ghugni Chaat stands out from other chaat recipes due to its unique combination of flavours and ingredients. While traditional chaats like Aloo Tikki and Papdi Chaat feature potato-based elements, Ghugni Chaat showcases boiled peas as the star ingredient. The peas are cooked with aromatic spices, giving them a distinct flavor and texture. Additionally, Ghugni Chaat is often garnished with tangy tamarind chutney, zesty lemon juice, and fresh herbs, creating a burst of flavours that sets it apart from other chaat dishes. Its delightful combination of spices, tanginess, and texture makes it a must-try for chaat lovers seeking a different and exciting taste experience.
Can I customize the spice level in Ghugni Chaat?
Absolutely! Ghugni Chaat allows for customization when it comes to spice levels. The level of spiciness can be adjusted according to your preference. If you enjoy mild heat, you can reduce the number of green chillies or omit them altogether. For those who prefer a fiery kick, you can increase the number of chillies or add a dash of red chilli powder. Remember, spices play a crucial role in enhancing the flavours of Ghugni Chaat, so feel free to experiment and find the perfect balance that suits your taste buds.
Is Ghugni Chaat suitable for vegans?
Yes, Ghugni Chaat can be easily made vegan-friendly. The recipe primarily consists of peas, spices, and garnishes, all of which are plant-based. Ensure that the ingredients you use, such as the chutneys and yoghurt (if included), are vegan-friendly or opt for dairy-free alternatives. Ghugni Chaat is a delightful option for vegans and vegetarians, offering flavours without compromising dietary preferences.
Can I make Ghugni Chaat in advance?
Certainly! Ghugni Chaat can be prepared in advance to save time when serving. You can cook the peas and store them in an airtight container in the refrigerator. Similarly, the chutneys and toppings can be prepared ahead and stored separately. When ready to serve, assemble the chaat by combining the ingredients and garnishing as desired. This make-ahead feature makes Ghugni Chaat a convenient option for parties, potlucks, or even as a quick snack during busy days.
What are some variations or additional toppings I can try with Ghugni Chaat?
While Ghugni Chaat is delicious, you can experiment with additional toppings to enhance its flavours. Some popular variations include adding chopped onions, tomatoes, and fresh coriander leaves for extra freshness. You can also sprinkle sev (crispy chickpea noodles) or crushed papdi (crispy Indian crackers) for added crunch. For a creamy twist, a dollop of yoghurt or whipped hung curd can be a delightful addition. The beauty of Ghugni Chaat lies in its versatility, allowing you to personalize the toppings and explore different combinations to suit your taste preferences.