A delicious and easy to make Italian breakfast, lunch or dinner rich in Vitamin A and C.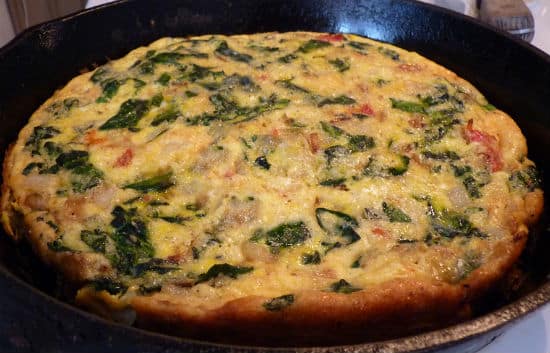 Ingredients:
Baby Spinach Leaves – 150 gms
Butter – 3 tsp
Eggs – 2
Spring Onion – 1, finely chopped
Cheese – 50 gms, crumbled
Coriander Leaves – few, chopped
Optional:
Cherry Tomatoes – 2, chopped
Green Capsicum – 1, small, chopped
Button Mushrooms – 2, sliced or chopped
Method:
1. Heat 1 tsp of butter in a pan.
2. Add the spinach leaves, a pinch of salt and little water.
3. Stir and cook over medium flame until the spinach leaves are wilted and tender, about 2 to 3 minutes.
4. Drain well and chop the leaves.
5. Break the eggs in a bowl.
6. Add salt and pepper powder.
7. Whisk well.
8. Add the cheese, spinach leaves, tomatoes, capsicum, coriander leaves and spring onions.
9. Mix well.
10. Heat the remaining butter in a nonstick pan over medium flame.
11. Add the egg mixture and reduce flame to low.
12. Cover the pan and cook for 6 to 8 minutes or until golden and puffed.
13. If desired, flip it over carefully and cook on the other side for a few minutes.
14. Transfer to a serving plate.
15. Serve.