This mushroom stuffed paratha is a simple and delicious breakfast dish. Best served with curd and pickle, it can also be served for lunch or dinner.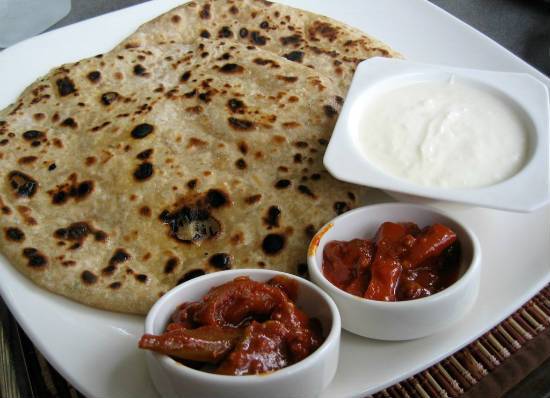 Ingredients:
Wheat Flour – 500 gms
Onions – 2, finely chopped
Green Chillies – 3, finely chopped
Garlic – 2 cloves, finely chopped
Mushrooms – 200 gms, finely chopped
Cumin Powder – 1 tsp
Garam Masala Powder – 1 tsp
Black Pepper Powder – 1 tsp
Oil – 2 tblsp
Ghee as required
Water as required
Salt as per taste
Method:
1. Mix the wheat flour, salt and enough water in a bowl.
2. Knead well to a thick, pliable dough (similar to a chapati dough).
3. Heat oil in a pan over medium flame.
4. Saute the onions, mushrooms, green chillies and garlic for 2 to 3 minutes.
5. Add the masala powders and salt.
6. Stir well and cook for another minute or two.
7. Make small/medium balls of the dough and shape them into a cup.
8. Add 1 or 2 tblsp of the mushroom mixture to the cup.
9. Fold and shape into a ball again.
10. Roll this into a slightly thick paratha.
11. Heat a tawa over medium flame.
12. Cook the prepared parathas on both sides, applying ghee around the edges.
13. Remove and serve with pickle and curd.