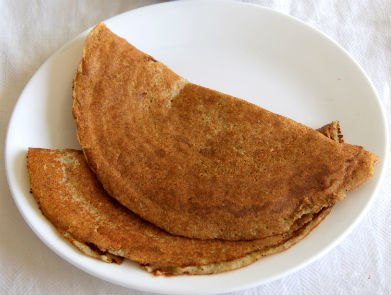 Ingredients:
Parboiled Rice – 1 cup
Raw Rice – 1/4 cup
Toor Dal – 1/2 cup
Urad Dal – 1/2 tblsp
Bengal Gram Dal – 1 tblsp
Red Chillies – 6
Asafoetida Powder – 1 tsp
Salt – 1 tsp
Onion – 1, chopped (optional)
Coconut – 1/4 cup, grated (optional)
Curry Leaves – few, chopped
Gingelly Oil as required

Method:
1. Wash the rice and dals separately.
2. Soak in water for 4 hours.
3. Wash and drain the water.
4. Combine them together and add red chillies, asafoetida powder and salt.
5. Grind to a thick coarse batter, thicker than a dosa batter. If required add enough water.
6. Add the chopped onions, curry leaves and coconut to the batter.
7. Mix well.
8. Heat a tawa over medium flame.
9. Pour a ladleful of the batter and spread evenly.
10. Apply oil around the edges and cook till both sides turn light golden brown.
11. Serve with avial or coconut chutney.
Note: image is for illustration purposes only and not that of the actual recipe.