A smooth, creamy traditional Italian dish.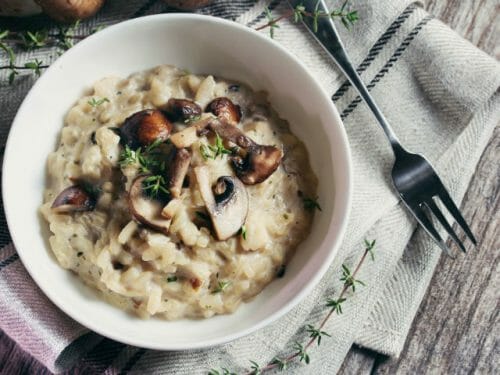 If you love Italian, you must love the Risotto – a classic dish from the land that gave us pasta and pizza. Rich, creamy and smooth, this classic dish reminds one of home and comfort. Let's begin our risotto experience with the classic Mushroom Risotto, a.k.a Risotto ai funghi, as the Italians would call it.
Like most Italian dishes, Risotto calls for simplicity. No dish is complete without the quintessential additions of Parmesan and Olive oil. A basic risotto is made with butter, stock water, risotto rice, onions and finished off with generous shavings of Parmesan cheese and olive oil. For us Indians, at the first glance, one may think this is another "khichidi" type of rice based dish. But no, that's where the difference lies.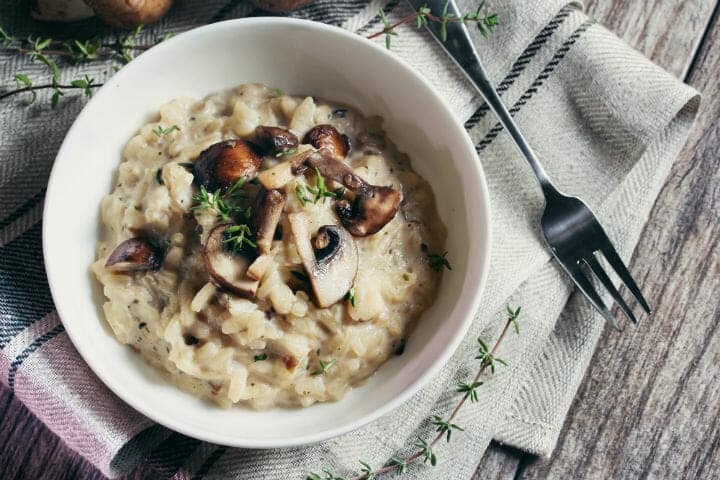 The rice used for risotto is a very different – it's short grained and highly starchy varieties like Arborio, Carnaroli, . Maretelli, etc. The rice is also not washed before cooking as it reduces the amount of starchiness of the dish. Saffron used to be one of the main flavouring agents in the earlier days of risotto. Mushroom Risotto is a highly flavourful dish to start your risotto journey with and is quite easy to make. All you need is just a bit of patience and voila, a bowl full of buttery heaven awaits!
Let us know what you think in the comments. If you have tried this or have versions of your own, do let us know in the comments below.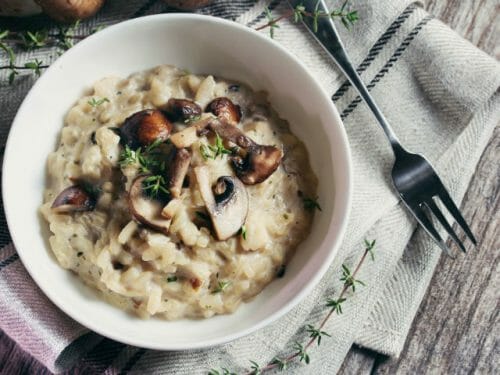 Mushroom Risotto

Recipe

A smooth, creamy traditional Italian dish.
Ingredients for
Mushroom Risotto
20

g

Unsalted butter

1/2

Onion

finely chopped

1

clove

Garlic

crushed

100

g

Risotto rice

(Arborio, Carnaroli, etc.)

500

ml

Veg stock

50

ml

Non Alcoholic White wine

2

tbsp

Olive oil

100

g

Mushroom

Mixed varieties or button

1

tbsp

Mascarpone Cheese

20

g

Parmesan Cheese

finely grated

1

tbsp

Flat leaf Parsley

finely chopped

1/2

lemon

Juiced

Salt & Pepper

as per taste
How to make
Mushroom Risotto
Melt the butter in a saucepan, add the onion and garlic, cover with a lid and cook for 5 minutes. 

Pour the Vegetable stock into a separate pan and bring to a simmer. 


Add the rice to the onions and coat in the butter. 


Add the white wine, boil and reduce for 2 minutes. Add just enough hot stock  water to cover the rice


Heat the olive oil in a separate frying pan and fry the mushrooms for 3 minutes until golden brown or slightly reduced.


Season with salt and pepper and add mushrooms to the rice. Cook the rice and mushrooms for 10 minutes, adding a little more stock once the previous batch has been absorbed by the rice. 


When the rice has softened but still has a slight bite, add the mascarpone cheese, Parmesan, parsley and lemon juice. 


Adjust seasoning and serve hot.
Notes
TIPS to make a great Risotto:
For a creamy texture, do not wash the rice.
Keep constant watch and stir often to ensure the water doesn't get absorbed fully or risotto will burn.
Use hot stock or regular water as it will help release the starch from the rice.
Don't forget the wine, it adds a beautiful kick to the recipe.