This delicious and healthy paratha stuffed with green peas make a filling breakfast. Served with curd, raita or pickle, they are ideal for lunch or dinner too.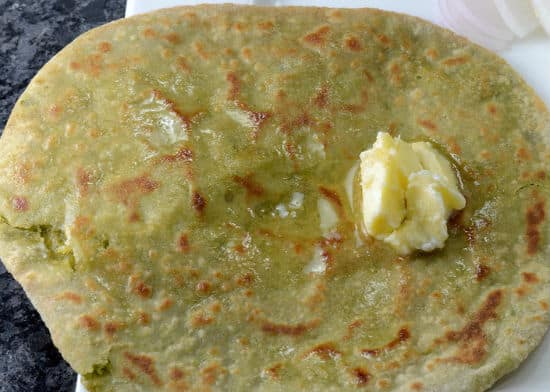 Ingredients:
Wheat Flour – 1 1/4 to 1 1/2 cups
Oil – 2 tblsp + 1/4 cup
Ghee – 1/4 cup
Peas – 1 1/2 cups, shelled
Coconut – 1/4 cup, grated
Ginger Paste – 1/4 tsp
Turmeric Powder – 1/4 tsp
Coriander Leaves – 1/4 cup, finely chopped
Red Chilli Powder – 1/4 tsp
Garam Masala Powder – 1/4 tsp
Cumin Seeds (Jeera) – 1/4 tsp
Lemon Juice – 1/2 tsp
Salt as per taste
Method:
1. Blanch the peas and drain well.
2. Transfer to a bowl and add the coconut, ginger paste, turmeric powder, coriander leaves, red chilli powder, garam masala powder, cumin seeds, lemon juice and salt.
3. Mix and mash well.
4. Keep aside.
5. Add a pinch of salt to the wheat flour and sift well.
6. Add 2 tblsp of oil and mix.
7. Sprinkle some water and mix well a soft, pliable dough.
8. Cover with a cloth and keep aside for 5 to 10 minutes.
9. Make small-medium balls of the dough and roll them out into 3 to 4 inch circles.
10. Mix the ghee and 1/4 cup of oil in a bowl.
11. Brush the rolled out dough with this mixture and add 1 or 2 tblsp of the peas mixture.
12. Fold and seal the edges. Shape it into a ball.
13. Roll it again into 1/4 inch thick paratha.
14. Heat a tawa over medium flame.
15. Cook the prepared paratha on both sides, applying oil-ghee around the edges, until light brown spots start to appear.
16. Remove and serve with raita.