A great appetizer snack for any occasion/meal. Serve it as an evening snack too.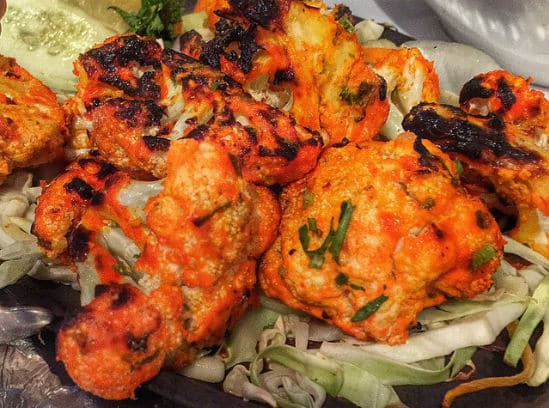 Ingredients:
Cauliflower – 2 small flowers
Chaat Masala Powder – 4 tsp
Oil – 2 tbsp
Cucumber – 1, sliced
Gram Flour (besan) – 4 tbsp
Juice of 2 Lemons
Oil to fry
Red Chilli Powder – 2 tsp
Salt to taste
Tomato Wedges – 8
Method:
1. Using only your hands, break the cauliflowers into florets. Don't use a knife.
2. Sprinkle the salt, chaat masala powder and lemon juice on the florets and let the cauliflower marinate for about 30 minutes.
3. Put oil in a frying pan and leave to heat.
4. Put the gram flour in a bowl and make a smooth batter with water.
5. Add salt and red chilli powder and mix well.
6. Dip the florets into the batter and fry in the hot oil over a low flame.
7. Remove to a paper towel to absord extra oil.
8. Let the florets cool and then cut each one into half.
9. Skewer these halves and roast in a tandoor for 5-6 minutes or until golden in colour. Make sure to keep basting with oil while roasting.
10. Serve on skewers or remove to a plate. Decorate with lemon wedges and sprigs of coriander.