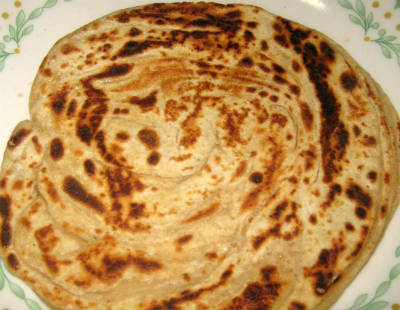 Ingredients:
Wheat Flour – 1 1/2 cups
Coconut – 1/2 cup, grated
Jaggery – 1/2 cup, powdered
Carrot – 1/4 cup, grated
Cardamom Powder – 1/2 tsp
Milk – 1/2 cup
Ghee as required
Salt – a pinch

Method:
1. Mix the wheat flour, milk, little ghee and salt in a bowl.
2. Knead well to a dough.
3. Heat 1 tsp ghee in a nonstick pan.
4. Saute the carrots for a minute.
5. Add the coconut and stir-fry for 30 to 45 seconds.
6. Add the jaggery and cardamom powder.
7. Stir well and remove when the mixture stops sticking to the sides of the pan.
8. Remove and cool.
9. Make small balls of the mixture and keep aside.
10. Make small lemon sized balls of the dough and roll them out to a thick, small circle.
11. Place one of the reserved carrot-coconut ball and fold well.
12. Then roll it out into a medium size parotta, ensuring the filling does not come out.
13. Heat a tawa over medium flame.
14. Cook the prepared parottas, adding little ghee around the edges, till golden brown.
15. Remove and serve hot with side dish of choice.
Image credit: gayathriscookspot.blogspot.com