Indulge in the vibrant flavours of Vathal Kuzhambu, a tangy tamarind-based dish infused with the unique taste of dried vegetables.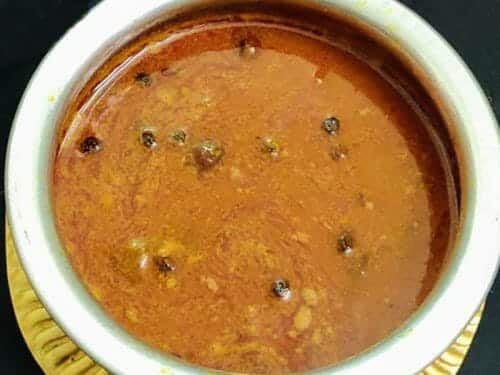 Vathal Kuzhambu, a traditional South Indian delicacy, is a tangy and spicy tamarind-based stew that tantalizes your taste buds with its rich flavours and aromatic spices. This authentic dish is known for its unique combination of dried vegetables and vathal, which adds a delightful texture and distinct taste to the kuzhambu. With its deep red colour and bold flavours, Vathal Kuzhambu perfectly embodies South India's vibrant and diverse culinary heritage.
The secret to a flavorful Vathal Kuzhambu lies in the careful balance of spices and the slow cooking process, allowing the flavours to develop and intensify. The tanginess of tamarind, the heat from red chillies, and the earthiness of roasted spices combine to create a harmonious symphony of taste.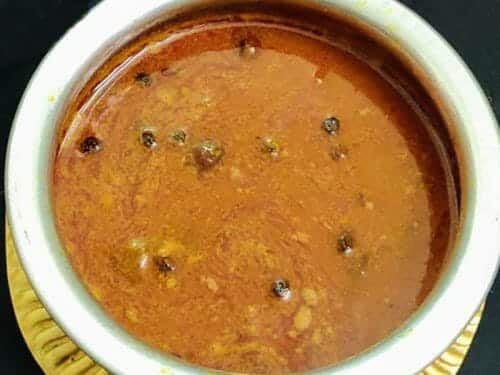 Vathal Kuzhambu

Recipe

Indulge in the vibrant flavours of Vathal Kuzhambu, a tangy tamarind-based dish infused with the unique taste of dried vegetables.
Ingredients for
Vathal Kuzhambu
4 to 6

cup

Tamarind Extract

2

tbsp

Vathal (Manathakkali or Sundakkai)

20

Garlic Cloves

2

tbsp

Sambar Powder

1/2

tsp

Turmeric Powder

1

tsp

Mustard Seeds

1

tsp

Fenugreek Seeds

4

tbsp

Gingelly Oil

few

Curry Leaves

as per taste

Salt
How to make
Vathal Kuzhambu
Heat oil in a pan over medium flame.

Fry the mustard seeds till it splutters.

Add fenugreek seeds and reduce flame to low.

Fry till light golden brown.

Add garlic cloves and vathal.

Fry for a minute or two.

Now add the curry leaves, tamarind extract, turmeric powder and sambar powder.

Mix well and cover the pan with a lid.

Bring to a boil over medium flame.

Cook till the oil starts to float on top and kuzhambu is thick.

Serve hot with rice.
Frequently Asked Questions about Vathal Kuzhambu
Can I use any vathal for Vathal Kuzhambu? 
Yes, depending on your preference and availability, you can use various types of vathal in Vathal Kuzhambu. Popular choices include sundakkai vathal (dried turkey berries), manathakkali vathal (dried black nightshade berries), and vendakkai vathal (dried okra). Each type of vathal imparts a unique flavour and texture to the dish. Experiment with different vathal varieties to discover your favourite combination.
How long does Vathal Kuzhambu last? 
Vathal Kuzhambu has a good shelf life when stored properly. If stored in an airtight container in the refrigerator, it can last 5 to 6 days. The flavours develop and deepen over time, making it even more delicious with each passing day. Just make sure to reheat it thoroughly before consuming it.
Can I make Vathal Kuzhambu without tamarind? 
Tamarind is a critical ingredient in Vathal Kuzhambu, providing a tangy flavour. However, you don't have tamarind or prefer a milder tang. In that case, you can use alternatives such as kokum or raw mango. These ingredients offer a similar tanginess and can be used as substitutes for tamarind in the recipe.
What are some suitable accompaniments for Vathal Kuzhambu? 
Vathal Kuzhambu pairs well with steamed rice, as the flavorful gravy complements the mildness of the rice. You can also serve it with dosa, idli, or Indian bread like chapati or paratha. To add some crunch and freshness, you can serve it with papadam or a cucumber and carrot salad. Additionally, a dollop of ghee (clarified butter) on top of the rice enhances the flavours of the kuzhambu.
Can I freeze Vathal Kuzhambu for later use? 
Yes, you can freeze Vathal Kuzhambu for later use. Ensure it has cooled down completely before transferring it to a freezer-safe container. It can be stored in the freezer for 2 to 3 months. When ready to enjoy it, thaw it in the refrigerator overnight and reheat it on the stovetop.