Also know as Mysore Chutney Pudi, this can be served with plain rice or mixed with little water or oil and served as a side dish to idli or dosa.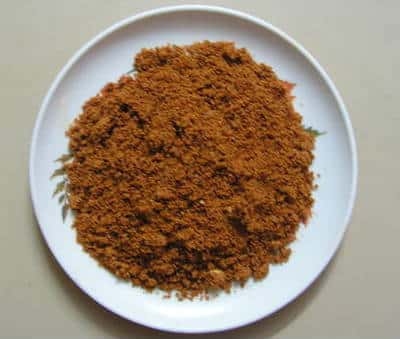 Ingredients:
Bengal Gram Dal – 8 tsp
Urad Dal – 8 tsp
Dry Red Chillies – 20
Coconut – 2 cups, grated
Sesame Seeds – 4 tsp
Asafoetida Powder – little
Gasa Gasa – little
Curry Leaves – handful
Tamarind – marble sized ball
Coriander Seeds – 2 tsp
Oil – 2 tsp
Salt as per taste
Method:
1. Dry roast the grated coconut until golden.
2. Separately dry roast the sesame seeds, gasa gasa, bengal gram dal, urad dal, curry leaves, coriander leaves and tamarind for 30 to 45 seconds each.
3. Heat 1 tsp oil and fry the red chillies.
4. Cool all the ingredients and combine them in a mixie.
5. Add salt and asafoetida powder.
6. Grind to a coarse powder.
7. Best serve with plain rice or add a little water to make it into a chutney and serve with idli or dosa.