Sindhi Cuisine is from the land of Sindh, now presently in Pakistan, belonging to the ancient Indus valley civilization. During the partition of India a lot of Sindhis migrated to India and now Sindhi cuisine is very much part of the bigger picture of the Indian cuisine.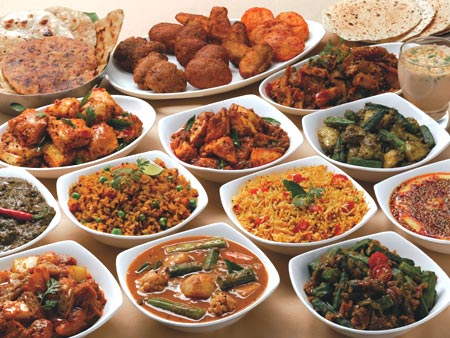 Sindhi cuisine (Sindhi Food) is influenced a lot by the invasion of Mughals in India. Now there are strong flavors of Arabian, Mughlai and Turkhani in Sindhi dishes. Traditional vegetarian Sindhi cuisine does not use garlic and even onion. But of late, in addition to these flavors, we can even find regional and international juices being added to Sindhi cuisine.
Sindhi cuisine is vivacious, with a lot of warm flavors, an awesome of blend tasty sweets, spicy curries, flavored gravies, kingly biryanis, abundant fresh vegetables, and a variety of flatbreads.
The world famous Sindhi Papad and Sindhi Pickles are part of this very cuisine which is featured today.
Sindhis generally have a royal breakfast. Yes, they believe in the first meal of the day to be heavy and hearty. Some traditional Sindhi breakfast is mentioned here.
The Dal Pakwan, crisp fried Maida flatbreads, with a protein rich side dish of Chanadal is the most common breakfast. Chutney goes well with this. Some also have a mini salad consisting of onions, carrots and lemon.
Sindhi Koki, whole-wheat flour bread, mixed with onion, garlic, chilies, dried pomegranate seeds, cumin and cooked on griddle is very common. Bori is actually a form of sweet Koki. It is crushed with some oil or clarified butter and sweetened with copious amount of sugar.
Lolo is also a form of sweetened bread.
Dodo is a type of bread made from millet flour or jowar or bajra. It is high in fiber. Bhaat is made from broken wheat porridge.
Today, in the hurried morning hours of a Sindhi household, time improvises this traditional breakfast. Bread soaked in chickpea curry called Chola dhabhala is relished a lot. It also has moong dal which is rich in proteins and fiber.
Now that the first meal of the morning hours is over, let's take a look at the feastly lunch this region offers. Rice, dal, vegetable curry is the basic lunch of a simple Sindhi household. But today we are not just stopping with simple delicacies but feasting on royal goodies. Sindhis have some popular style of cooking called Daagh which is basically a curry with browned onions. There is also Seyal which means to cook food with ginger and/or garlic and minimum water. Yet another type of cooking is with tomato gravy.
A lot of stuffed vegetables play a prominent role in the mid day meal. Stuffed ladys finger, stuffed gourds, stuffed capsicum are popular. Sindhi palak is an exquisitely prepared green side dish. They also have side dishes made from lentils like Chilra kadhi,Aani ji bhaji which are basically besan dumplings.
Sindhi Kadhi (Sindhi version of a vathal kuzhambu) is made with tamarind sauce and gram flour based curry, with beans, ladys-finger, and drumsticks which eaten with boiled rice with a side dish of sweet boondi.
Amritsari wadis cooked along with potatoes, is one spicy curry you cannot afford to miss, and so is Sindhi Saibahji, the yummiest concoction of spinach with fenugreek leaves, sorrel leaves, beans, potatoes, carrot, eggplant, okra, chana dal etc.
For traditional ceremonies and festivals, cuisines with Lotus Stem are prepared. Nowadays, panneer is fast replacing this. Bheepatata and Degh Waara chaanwara were delicacies. Degh is the most popular traditional dish which is basically a spicy curry of   lotus stem, potato, peas, onions, tomatoes. This is served with pulav.
Did you know, the world famous Aloo tikki originated as a Sindhi snack? Today there is no telling how popular this Aloo tikki is. Apart from that some popular snacks are Sanna Pakoda, Batan papdi, Sindhi Kheecha, Chilli Pakora (which is basicaslly a modified version of our milagai bajji),
Sindhis are a huge fan of papads and pickles. Grated Mango pickle is the favorite of most Sindhis. During summers, the elderly women prepare a lot of pickles with turnips, onions, carrots, chillies, lemons and raw mangoes. Sindhis pride themselves in preparing pickles with almost any vegetable.
Famous sweets of this region are Tosha, Praghuree, Geear and Khuskhus Halwa, carrot halwa, gulabjamun and coconut barfi, ladoo.
Sherbet and Thandai, falooda, rose sherbet and sandalwood sherbet (yes, sherbet made from sandalwood paste) are very popular beverages.
image courtesy: chennaionline.com