Cham Cham (Bengali Chum Chum or Chom Chom) is a traditional and popular Bengali sweet dish. A classic dessert delicacy, it comes in numerous variations and flavours.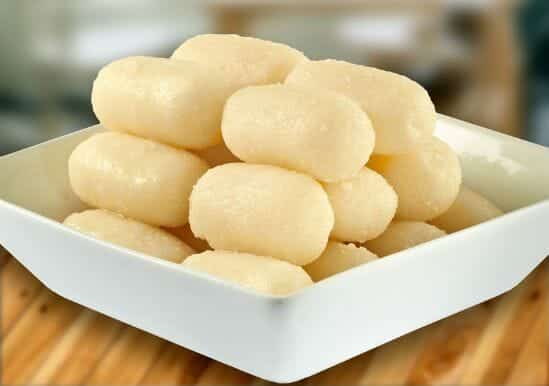 Ingredients:
Cheese – 300 gms
Maida (Plain Flour) – 2 tblsp
Cardamom Powder – 2 tsp
Sugar – 1 1/2 cups
Unsweetened Condensed Milk – 200 gms
Yellow Food Colour – few drops (optional)
Saffron Strands – little
To Garnish:
Pistachios – few, crushed
or
Desiccated Coconut – few
Method:
1. Heat 3 to 4 cups of water in a pan over medium flame.
2. Add the sguar and stir well until fully dissolved.
3. When it has reached a syrup consistency, add the edible food colour and stir.
4. The sugar syrup should not be too thick and has to be of thin consistency. Reduce flame.
5. Mix cheese and maida in a bowl.
6. Make small balls and shape them into oval shape.
7. Gently drop these into the sugar syrup and simmer for a few minutes.
8. Switch off the flame and remove.
9. When the syrup has cooled down a bit, remove the chum chums and place them on a plate.
10. Mix saffron strands, cardamom powder and condensed milk in a bowl.
11. Spread this over the chum chums.
12. Garnish with pistachios.
13. Serve at room temperature or chilled.