A delicious and healthy side dish perfect for any occasion or weekend dinners. Not to mention this is a simple way to get kids to eat spinach.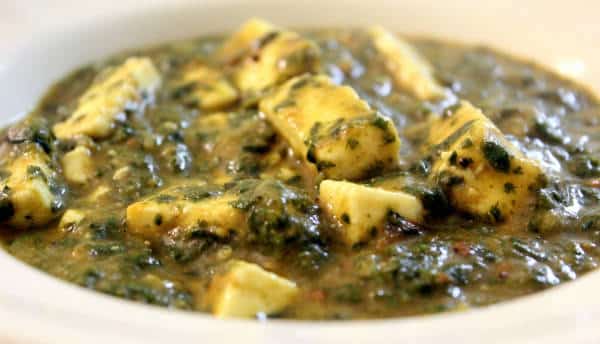 Ingredients:
Moong Dal – 500 gms
Tomato – 1, small, finely chopped
Onion – 1, small, finely chopped
Oil – 2 tblsp
Garlic – 2 cloves, crushed
Ginger – 3/4 tsp, grated
Coconut Milk – 750 ml
Paneer – 400 gms, cubed
Spinach Leaves – 200 gms, chopped
Coriander Leaves – handful
Salt as per taste
Method:
1. Wash and rinse the dal.
2. Boil for 10 to 15 minutes until tender and drain well.
3. Heat oil in a pan over medium flame.
4. SAute the tomatoes, onions, ginger and garlic for 3 minutes.
5. Add the coconut milk and cooked dal to the pan.
6. Simmer for 5 to 10 minutes.
7. Heat little oil in a nonstick pan.
8. Fry the paneer cubes until light golden brown and keep aside.
9. Add the spinach leaves to the dal and mix well.
10. Cook for 5 minutes and add the fried paneer pieces.
11. Simmer for a minute and remove from flame. Garnish with coriander leaves.
12. Serve as a side dish to naan, roti or fried rice.