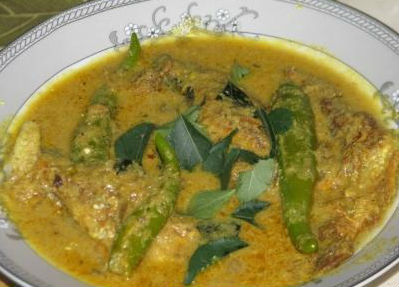 Ingredients:
Fish – 250 gms, cleaned, cut into small bite sized pieces, washed and drained
Oil – 1/2 cup
Mustard Seeds – 1/2 tsp
Onion – 1, chopped
Green Chillies – 2, chopped
Curry Leaves – handful
Tamarind Extract – 1/2 to 1 cup
Salt – 1/2 tsp or as per taste
Thick Coconut Milk – 1/2 cup
Grind to a fine paste:
Small Onions – 2, chopped
Ginger – 1 inch piece, chopped
Garlic – 2 cloves, chopped
Red Chilli Powder – 2 tsp
Coriander Powder – 1/2 tsp
Turmeric Powder – 1/2 tsp
Salt – 1/2 tsp or as per taste
Water – 2 tsp or as required
Method:
1. Rub half of the ground paste into fish and keep aside for an hour to marinate.
2. Heat oil in a pan.
3. Deep fry the fish and keep aside to drain excess oil.
4. Reduce oil to 1 tblsp and fry the mustard seeds.
5. When it starts to splutter, add onions, green chillies and curry leaves.
6. Fry till onions turn translucent.
7. Add the tamarind extract to the pan.
8. Add salt and remaining ground paste.
9. Fry for 3 to 5 minutes, stirring all the time.
10. Add the fish and coconut milk.
11. Mix gently and remove.
12. Serve hot with rice.
image credit: Foodie Delights Bangalore