These crab cakes make an ideal appetizer or starter for any occasion. Serve them with a dipping sauce of choice.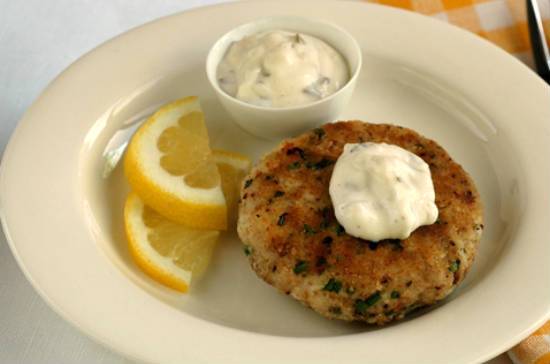 Ingredients:
Crab Meat – 500 to 600 gms
Spring Onions – 4 to 5, finely chopped
Red Chillies – 2, finely chopped, seeds removed
Zest of 1 large Lemon or 2 medium Lemon
Lemon Juice – 4 to 5 tsp
Egg – 2, beaten
Parsley – handful, chopped
Oil for frying
Salt as per taste
Breadcrumbs – 200 gms
Pepper Powder as per taste
Method:
1. Transfer the crab meat to a large bowl after squeezing out any excess moisture.
2. Add the spring onions, parsley, red chillies, lemon zest and juice, 2 to 3 tblsp of breadcrumbs and 2 tblsp of oil.
3. Mix well and sprinkle salt and pepper powder.
4. Mix again and divide the mixture into equal portions.
5. Shape them into flat rounds or squares (as desired).
6. Keep them in the fridge for 30 to 45 minutes.
7. Remove and dip them in the beaten egg.
8. Gently dredge them in the breadcrumbs until evenly coated.
9. Heat oil in a deep frying pan over medium flame.
10. Fry the prepared crab cakes until crisp and golden.
11. Remove and drain excess oil.
12. Serve with sauce, ketchup or chutney of choice.