Also known as Nellai Ukkarai, this is a traditional South Indian sweet made during Diwali.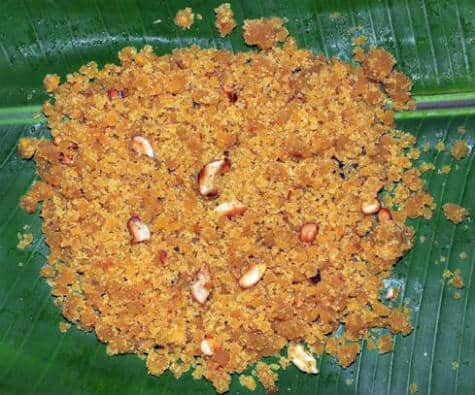 Ingredients:
Bengal Gram Dal – 2 cups
Toor Dal – 3 tblsp
Jaggery – 2 cups, powdered
Ghee – 1/4 cup
Cardamom Powder – 1/4 tsp
Cashewnuts – 15 to 20
Method:
1. Dry roast the bengal gram dal and toor dal, separately, for a minute.
2. Remove and soak them in water, separately, for 60 to 90 minutes.
3. Drain well and spread them out to dry under the sun.
4. Grind them to a coarse powder having a rawa like consistency.
5. Pour 1 1/2 cups of water into a heavy-bottomed pan.
6. Add the jaggery and stir well until fully dissolved.
7. Strain well and transfer to a pan.
8. Add cardamom powder and bring to a boil.
9. When it starts to thicken and has a soft ball consistency, add the ground dal and stir well.
10. Fry the cashewnuts in ghee and add to the pan.
11. Mix well.
12. Transfer to a serving bowl and serve.
Note: Drop a little bit of the jaggery syrup into a small bowl of water and if it forms a loose ball, this is called soft ball consistency.
Image via The Hindu