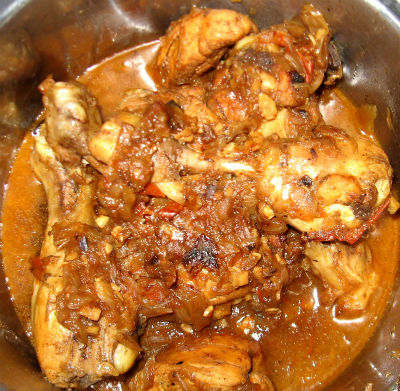 Ingredients:
Chicken Drumsticks – 2, washed, deboned, flattened
Minced Chicken – 150 gms
Ginger Garlic Paste – 5 tsp
Green Chilli Paste – 2 1/2 tsp
Lemon Juice – 1 tblsp
Almonds – 1/4 cup
Cashewnuts – 1/4 cup
Mint Chutney – 1/4 cup
Garam Masala Powder – 1/2 tsp
Oil – 1 1/2 tsp
Saffron – 1/2 tsp
Cream – 1/4 cup
Salt as per taste

Method:
1. Combine half of the ginger garlic paste, salt, green chilli paste and lemon juice in a bowl.
2. Rub this onto the chicken drumsticks and keep them in the fridge for 30 to 40 minutes.
3. Mix cashewnuts, almonds, minced chicken and mint chutney in a bowl.
4. Add the garam masala powder, remaining ginger garlic paste, green chilli paste, salt and lemon juice.
5. Mix well and stuff the chicken drumsticks with this mixture.
6. Ensure the stuffing is neatly wrapped inside.
7. Transfer the rolls to a greased baking tray and cover with foil.
8. Place the tray in a preheated oven and bake until done at 100C/200F.
9. Remove and slice each chicken roll diagonally.
10. Transfer to a serving plate.
11. Mix cream and saffron together and pour over the chicken.
12. Serve hot.
Note: image is for illustration purposes only and not that of the actual recipe.
Image credit: jhilmil.