Fruits are an essential part of our diet. The easiest way to consume them would be to buy a pack of juice off the shelves of the supermarket.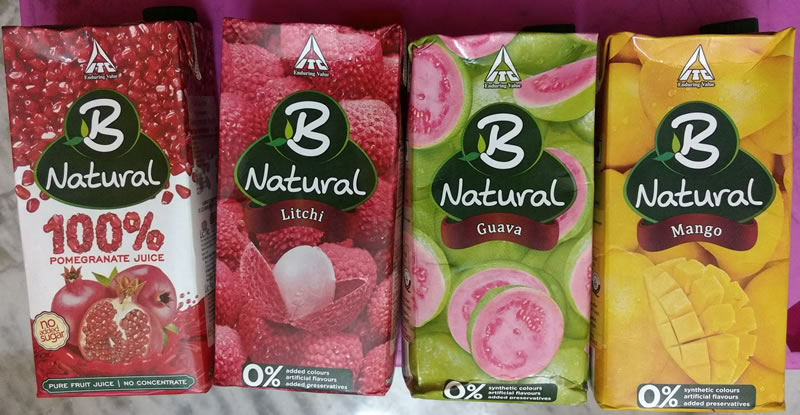 Fruit juices, nectars or blends in tetra packs are not alien anymore. Companies are jostling with each other to capture the market and make it more affordable to the price sensitive customer. Supermarkets have aisles and columns of shelf space dedicated to one brand or another. Be it health, convenience or an important ingredient in a cocktail, fruit juices or nectar blends have become an integral part of our food routine.
When looking for a healthy snack, most often than not, a 200ml tetra pack of juice is what is chosen by many. Juices are considered an acceptable and healthier substitute for fresh fruits. However, how many times have we taken a close look at the health labels? When you look at the labels closely, you would find that most of them have something that goes: added sugars %, fruit concentrates %, etc. Why would we want to load up on additional unnecessary calories? Don't we relish our fruits as is? Then why the extra sugar for the juices alone?
That's where ITC's B Natural brand of juices make a difference. The Pomegranate and Jamun Joy are two varieties that are 100% juice and no added sugar, making it healthier to enjoy the taste of the fruit naturally. The Pomegranate fruit is nature's wonder – Ruby red pearls, attached to each other in a honeycomb design, beckoning a person to take a mouthful and enjoy its sweet, sour, slightly bitter and hard taste. That's exactly how B-Natural's Pomegranate juice tastes like. The 1-litre pack is made from 25 pomegranates with no added sugars. Pure juice and nothing else.
The complete B-Natural range of juices include Mango, Litchi, Jamun, Guava, Orange, Kinnow, Pineapple, Mixed Fruit and Apple. All of these are made from pure fruit pulp.
With heightened awareness among consumers, it is heartening to see companies pay more attention to the health segment with products that promote and support good health.