A light and fresh salad, this Thai style Chicken Noodle Salad can be served for lunch or dinner. Also ideal for a Sunday brunch.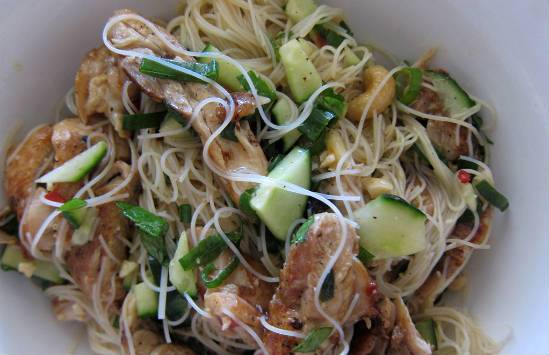 Ingredients:
Chicken Breast – 2, skinless and boneless, chopped
Thai Green Curry Paste – 2 tblsp (available in supermarkets or speciality stores)
Rice Noodles – 100 gms, cooked, rinsed, drained
Spring Onions – 2, finely chopped
Carrots – 3, medium, peeled, finely chopped
Red Chillies – 3, seeds removed, minced
Cucumber – 1, small, chopped
Coriander Leaves – handful, chopped
Mint – handful, chopped
For the dressing:
Juice and zest of 3 to 4 Limes (depending on size)
Coconut Milk – 1/4 cup
Thai Fish Sauce – 2 tsp
Red Chilli – 1, finely chopped
Optional:
Cashew Nuts – few, to garnish
Method:
1. Mix all the dressing ingredients in a bowl and keep aside.
2. Rub the green curry paste all over the chicken and grill for 2 to 3 minutes on each side or until cooked.
3. Transfer to a large bowl and allow it to cool for 2 to 4 minutes.
4. Add the noodles, spring onions, carrots, red chillies, mint leaves, cucumber, coriander leaves and toss well.
5. Add the dressing and mix well.
6. Transfer to a serving bowl and serve at once.