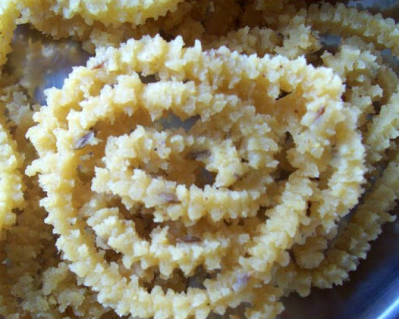 Ingredients:
Rice Flour – 500 gms
Roasted Gram Flour – 1/4 cup
Sour Curd – 3/4 cup
Dry Red Chilies – 3
Garlic – 3 cloves (optional)
Salt – 1 1/2 tsp
Asafoetida Powder – 1 tsp
Butter – 2 tsp
Oil – 500 ml
Water as required
Method:
1. Sieve the flours separately and keep aside.
2. Grind the red chillies with salt to a fine paste.
3. Combine the flours, curd, chilli paste, asafoetida powder and butter in a bowl.
4. Add enough water and mix to a thick dough.
5. Make balls of the dough and add to a thenkuzhal maker with the spiky plate.
6. Heat oil in a frying pan over medium flame.
7. Squeeze the thenkuzhal over hot oil and fry on both sides till golden brown.
8. Remove and drain excess oil.
9. Serve.