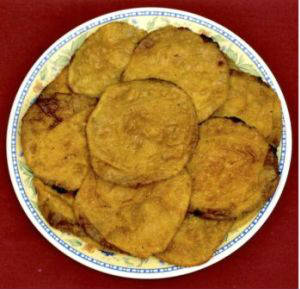 Ingredients:
Wheat Flour – 1 cup
Rava – 1 cup
Sugar – 2 cups
Water – 2 cups
Ghee – 3 tblsp
Cardamom Powder – 1/2 tsp
Rice Flour for dusting
Method:
1. Dry roast the rava till golden and remove.
2. Bring the water to a boil and add the fried rava.
3. Stir well till thick.
4. Add sugar and mix well to a kesari consistency.
5. Add cardamom powder and stir.
6. Make small balls of the mixture and keep aside.
7. Add little water to the wheat flour and mix well to a chapati dough consistency.
8. Make small discs (puris) of the dough and add the prepared balls in the center.
9. Fold and seal the edges.
10. Dip them in rice flour and roll them out to a small-medium puris. Ensure the filling does not spill out.
11. Heat a tawa over medium flame.
12. Add the puris to the tawa and apply ghee around the edges.
13. Cook on both sides till golden yellow.
14. Remove and serve.
This sweet is quite popular in Thanjavur and surrounding areas.
Instead of wheat flour, maida can also be used.
image credit: The Hindu