A simple and delicious dish, the Coconut, Potato and Egg Curry is a great side dish for any rice, roti or naan. You can slice the eggs or keep them whole.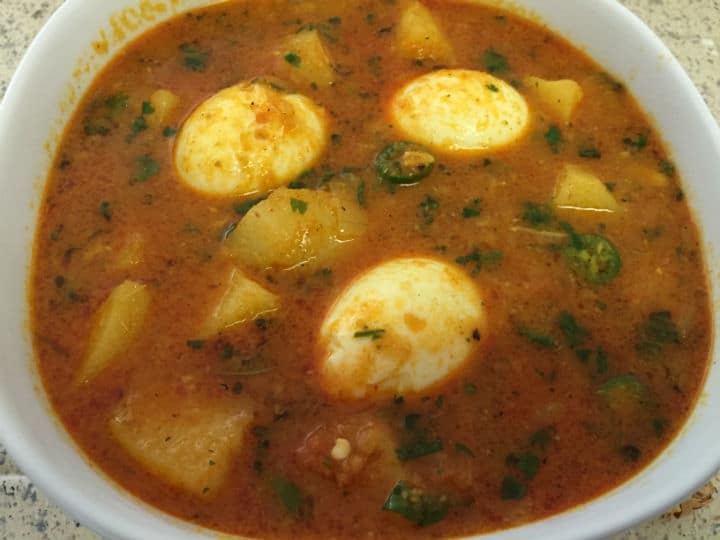 Ingredients:
Eggs – 6
Potatoes – 100 gms
Onions – 25 gms
Coconut – 1 cup
Lemon – 1
Turmeric Powder – 1/2 tsp
Cashew nuts – 25 gms
Green Chillies – 8
Mustard Seeds – 1/2 tsp
Ghee – 25 gms
Coriander Leaves – few
Curry Leaves –  few
Method:
Boil the eggs and potatoes separately and peel the outer skin.
Chop the boiled eggs and potatoes.
Grate the coconut and keep it.
Chop the onions and green chillies.
To a pan, heat ghee in medium flame.
Add mustard seeds, cashew nuts and fry till golden brown.
Add the onions and green chillies.
When the onions are cooked , add the chopped eggs and potatoes.
Add the turmeric powder, salt, coriander leaves, curry leaves and grated coconut.
Allow it to boil for 5 to 10 minutes.
Add required water and boil again.
Tasty coconut potato egg curry is ready to serve hot.
image via YouTube