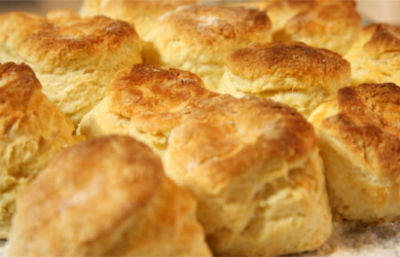 Ingredients:
Maida – 5 cups
Sugar – 2 tblsp, finely powdered
Butter – 4 tblsp
Buttermilk – 2 1/2 cups

Method:
1. Mix together maida and sugar in a bowl.
2. Add butter and mix well until all ingredients are properly combined.
3. Make a small well in the center and add the buttermilk.
4. Using a spatula or your hands, knead well to a soft, sticky dough.
5. Transfer this to a floured surface and knead again until smooth.
6. Using a scone cutter, cut as many rounds as possible (1/2 inch thick and 1 1/2 inch long).
7. Place them on a greased cake pan.
8. Brush the top with little water and place the pan in a preheated oven at 425F.
9. Bake for 15 minutes or until light golden.
10. Remove and cool.
This should make about 30 scones.
image credit: aussie-true-blue-recipes.com