These scones are perfect for any time of day--breakfast, snack, or dessert.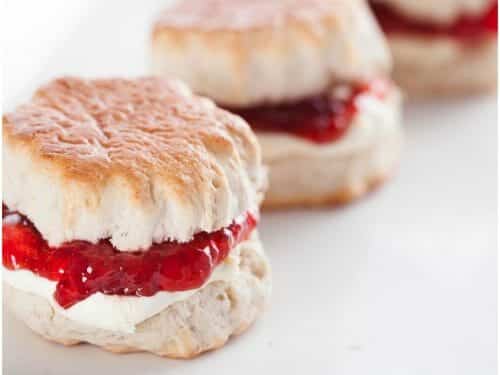 Buttermilk Scones are a traditional British recipe that is popular in many countries. They are made with flour, butter, sugar, baking powder, eggs and buttermilk.
The recipe is not complicated but it does take some time to prepare. They are often served with cream, butter and jam, or as part of a more elaborate tea time routine.
The dough can also be shaped into rounds or squares before baking to create different shapes of scones.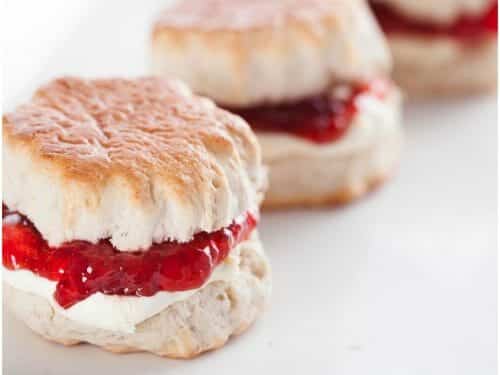 Buttermilk Scones

Recipe

These scones are perfect for any time of day--breakfast, snack, or dessert.
Ingredients for
Buttermilk Scones
250

g

Plain Flour

50

g

Butter

2 1/2

tbsp

Caster Sugar

1/2

cup

Buttermilk

1

tsp

Baking Powder

a small pinch

Salt

1/2

Egg White

lightly beaten

1

tbsp

Granulated Sugar
How to make
Buttermilk Scones
Preheat the oven to 200C/400F.

Mix the flour, baking powder and salt in a bowl.

Add the butter and rub the butter into the flour until it reaches a breadcrumbs consistency.

Add the sugar and mix well.

Make a small well in the center and add the buttermilk.

Mix well and shape it into a rough ball.

Transfer this to a floured surface and lightly knead for 30 seconds until the dough is almost smooth.

Roll out the dough and using a cookie a cutter, cut as many rounds as possible.

Place them on the baking tray lined with parchment paper.

Brush the top with little of the egg white and sprinkle some granulated sugar on top.

Place it in the preheated oven for 10 minutes or until the scones are golden brown and well risen.

Remove the scones and allow them to cool.

Serve with thick cream and strawberry jam.