These delicious brownies made with chocolate and raspberries makes a great dessert for any occasion or can also be served as a teatime snack. Serve with some raspberries or fresh cream.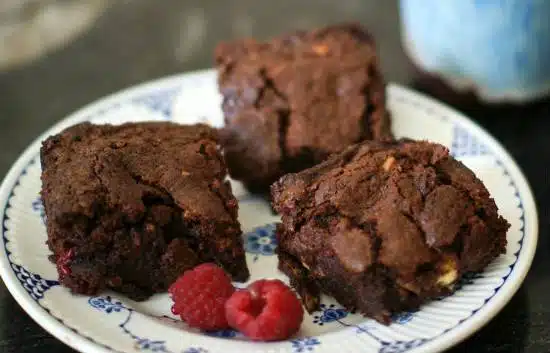 Ingredients:
Cocoa Powder – 1/2 cup, sifted
Raspberries – 2 cups
Plain Flour (Maida) – 2 1/2 cups
Almonds – 1 cup, blanched, chopped
Vanilla Essence – 2 tsp
Caster Sugar – 4 cups
Eggs – 12 to 13
Butter – 500 gms
Milk Chocolate – 600 to 700 gms, chopped
Method:
1. Preheat an oven to 180C/360F.
2. Melt the chocolate and butter in a bowl over a water bath.
3. Stir well until combined and remove.
4. Allow it to cool.
5. Beat the eggs, caster sugar and vanilla essence together until creamy.
6. Add the flour and cocoa powder.
7. Stir until well combined and no lumps remain.
8. Add the raspberries, mix well and pour into a greased cake pan.
9. Sprinkle the almonds on top and place it in the preheated oven.
10. Cook for 60 to 75 minutes or until a skewer inserted in the center comes out clean.
11. Remove, cool and cut into slices.
12. Serve.