A delicious and classic Chinese soup with beaten eggs in boiled chicken stock.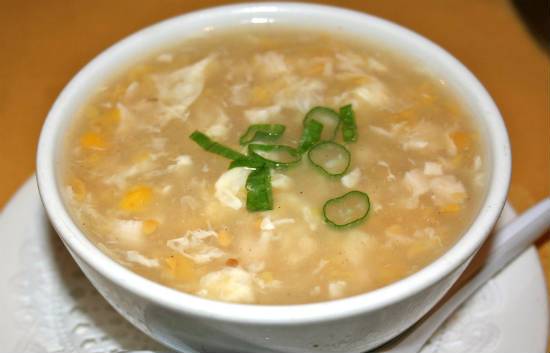 Ingredients:
Eggs – 8, beaten
Chicken Stock – 3 litres
Green Peas – 150 gms
Spring Onions – 6, finely chopped
Watercress (or Parsley) – handful, finely chopped
Ginger – few thin slices
Soya Sauce – 2 tblsp
Ajinomoto – a pinch
Cornflour – 2 tsp, dissolved in 1/4 of water to a paste
Salt as per taste
Pepper Powder as per taste

Method:
1. Put the chicken stock in a pan over moderate heat.
2. When it begins to boil, add the spring onions, peas, watercress, ginger, salt and pepper.
3. Allow it to boil for 5 minutes.
4. Add the soya sauce, ajinomoto and the cornflour paste.
5. Stir well till it thickens.
6. Allow the soup to boil again.
7. Add the beaten eggs in drops to the soup.
8. Serve immediately.