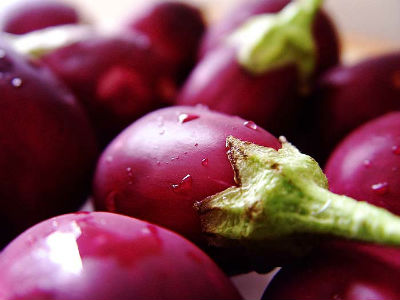 Ingredients:
Eggplants (Brinjals) – 2, peeled, finely sliced
Onion – 1, small, finely chopped
Turmeric Powder – 1/2 tsp
Garlic – 2 cloves, small, finely chopped
Mint Leaves – 1 tblsp, dried
Sour Cream (or Thick Yogurt) – 1 tblsp
Salt as per taste
Black Pepper Powder as per taste
Olive Oil as required
Walnuts – few, chopped
Parsley – few, chopped
Method:
1. Heat 1 tblsp of olive oil in a frying pan.
2. Add the eggplants and fry until soft and golden.
3. Remove and drain excess oil.
4. Saute the onions until translucent, adding a little bit more oil if required.
5. Add the turmeric powder and stir fry for 15 to 20 seconds.
6. Move the onions to one side and add the garlic.
7. Fry for 10 seconds and move this to another side.
8. Add mint leaves and fry for 10 seconds.
9. Remove the pan from flame and keep aside. Reserve some for garnishing.
10. Add the eggplants to a bowl and mash well.
11. Heat a little bit more oil in a pan.
12. Add the eggplant, sour cream, onions, garlic and mint leaves.
13. Add salt and pepper powder.
14. Heat through and transfer to a serving bowl.
15. Garnish with the reserved onions, garlic and mint.
16. Sprinkle some walnut and parsley.
17. Serve.