Piri Piri Chicken is a popular Portuguese chicken dish. Marinated in mildly spicy sauce, this chicken is either baked or grilled, in this case it is grilled.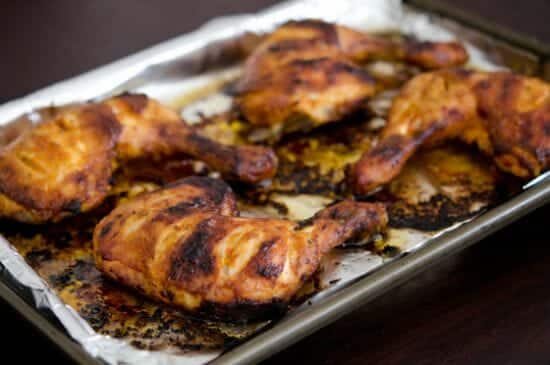 Ingedients:
Chicken – 1 kg (thighs and breasts)
Olive Oil – 2 tblsp
Red Capsicum – 1, small, seeds removed, chopped
Red Chillies – 2, small, seeds removed, chopped
Garlic – 2 cloves, chopped
Coriander Leaves – 1/4 cup, finely chopped
Parsley Leaves – 1/4 cup, finely chopped
Zest and Juice of 1 Lemon
Red Chilli Flakes – 1 tsp
Salt – 1/2 tsp
Method:
1. Combine the capsicum, red chillies, garlic, coriander leaves, parsley, lemon juice, lemon zest, red chilli flakes and salt.
2. Grind them together for 1 minute.
3. Slowly add the olive oil and mix well.
4. Grind again for 30 seconds to mix evenly.
5. Place the chicken pieces in a baking tray.
6. Rub the ground piri piri sauce all over the chicken until evenly coated.
7. Cover and keep it in the fridge for 2 to 4 hours.
8. Heat a grill pan over medium flame.
9. Cook the marinated chicken for 15 to 20 minutes on all sides.
10. Baste the chicken with any remaining sauce and cook for another 5 minutes or until the chicken pieces are well cooked.
11. Remove, cut into pieces and transfer to a serving plate.
12. Serve at once.