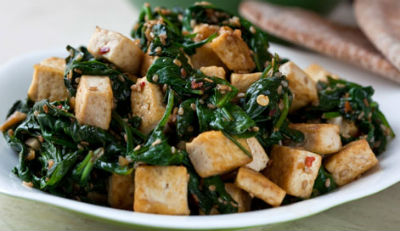 Ingredients:
Tofu – 110 gms, firm, drained, cubed
Spinach – 1 bunch, washed, trimmed, chopped
Ginger – 1/2 inch piece, sliced, crushed
Garlic – 2 cloves, finely sliced
Red Chillies – 1 or 2, sliced
Soy Sauce – 1/2 tblsp
Sugar – 1/4 tsp
Oil – 1 1/2 tblsp
Small Onion – 1/2 tsp, chopped
Method:
1. Heat a pan over moderate flame.
2. Add the tofu pieces and stir-fry in 1 tsp oil till it starts to change colour around the edges.
3. Remove and keep aside.
4. Now add the remaining oil to the pan.
5. Add ginger, garlic, red chillies and small onions.
6. Stir-fry for a minute or two.
7. Add the soy sauce and spinach leaves.
8. Cook for a minute and add sugar and tofu.
9. Toss well and cook till tofu is heated through.
10. Transfer to a serving dish and serve immediately.
Note: image is for illustration purposes only and not that of the actual recipe.