Baked Beans are a very popular breakfast food outside India, especially in US and UK where it is served as part of a full English breakfast. Often served with toast, they are a good source of dietary fibre and is quite filling.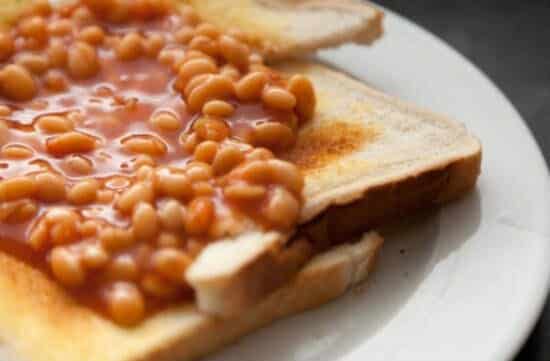 Ingredients:
White Kidney Beans (Cannellini Beans) – 200 gms
Tomatoes – 200 gms, chopped
Garlic – 1 clove, crushed
Onion – 1, small, finely chopped
Oil – 1 tsp
Tomato Puree – 2 tsp
Lemon Juice – 1 1/2 tsp
Red Wine Vinegar – 2 tblsp + 1 tsp
Salt as per taste
Black Pepper Powder as per taste
Red Chilli Powder as per taste
Garam Masala Powder – a pinch (optional)
Method:
1. Soak the beans in slightly salted water for 3 to 4 hours or overnight.
2. Heat oil in a pan over medium flame.
3. Saute the onions and garlic for 2 to 3 minutes.
4. Add the other ingredients and reduce flame to low.
5. Simmer for 10 to 15 minutes or until the sauce has reduced.
6. Serve with toast.
Note: If you are using canned beans, then skip step #1.