These simple and easy to make meatballs with either chicken or lamb makes a great party appetizer. They are also great for any meal and can be paired with most gravies. Serve them with a gravy/main dish of choice or with a pita bread, salsa and salad.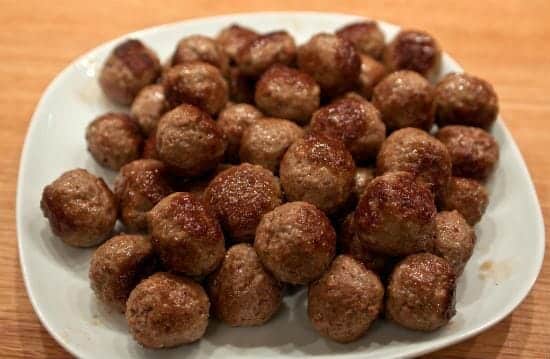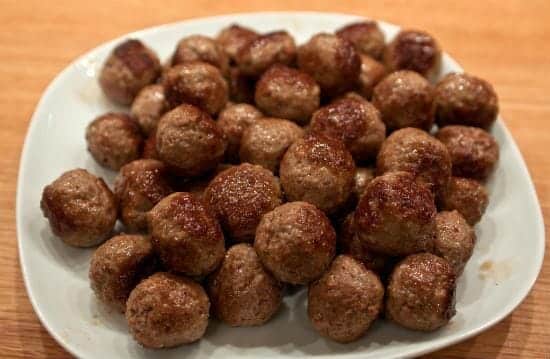 Ingredients:
Minced Chicken or Lamb – 250 gms
Onion – 1, small, chopped
Garlic – 1 clove, chopped
Curry Powder – 1 tsp
Cumin Powder – 1 tsp
Garam Masala Powder – 1/2 tsp
Red Chilli Powder – 1/4 tsp
Coriander Leaves – handful, chopped
Breadcrumbs – 2 tblsp
Egg – 1, small, beaten
Oil – 1 1/2 tsp
Method:
1. Combine the onions, garlic, curry powder, cumin powder, garam masala powder, red chilli powder and coriander leaves in a large bowl.
2. Add the minced meat and mix well.
3. Add the egg and breadcrumbs.
4. Mix again.
5. Make small balls of the mixture and keep aside.
6. Heat oil in a frying pan over medium flame.
7. Cook the prepared meatballs for 5 mins or until golden brown.
8. Remove and keep them on a baking tray.
9. Place them into a preheated oven at 180C/360F for about 10 to 20 minutes.
10. Remove and cool slightly.
11. Serve with pita bread, salad and tomato salsa.