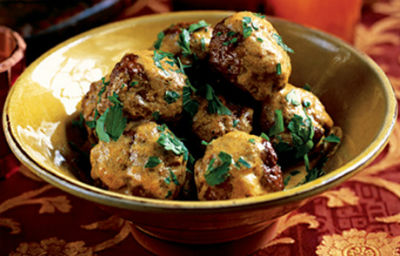 Ingredients:
Yogurt – 2 cups (mixed with 1/2 cup water and boiled)
Water – 2 cups (Chicken Stock or Lamb Stock)
Green Cardamom – 4
Black Cardamom – 3
Cloves – 3
Fennel Powder – 1 tsp
Ginger Powder – 1 tsp
Garlic Paste – 1/2 tsp, mixed with water to make 1/8 cup
Fried Onion Paste – 1/2 tblsp
Salt as per taste
Mint Leaves – few, chopped
Leg of Lamb – 500 gms, boneless, fat removed, cubed
Butter – 4 tblsp
Cardamom Powder – 1/4 tsp
Method:
1. To make the Ghustaba (Lamb Balls), pound the lamb until it changes colour.
2. Using wet hands, mix the butter, cardamom powder and salt to the pounded meat.
3. Make balls and keep aside.
4. Place a pan over moderate flame.
5. Add the lamb balls, yogurt, ghee and water.
6. Bring to a boil.
7. Add cardamoms, cloves, fennel powder and ginger powder.
8. Cover the pan with a lid and allow it to boil for 10 minutes.
9. Add the garlic paste and salt.
10. Continute to boil for another 10 minutes.
11. Add more water if desired and add the onion paste.
12. Stir and cook till lamb balls is tender and gravy has thickened.
13. Garnish with mint leaves.
14. Cook for a few minutes.
15. Remove and serve hot.