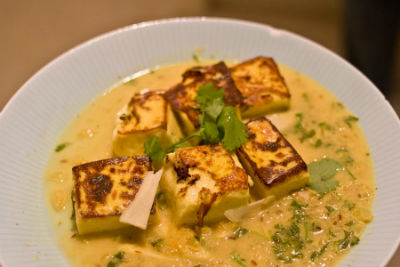 Ingredients:
Plain Yogurt – 375 gms
Chickpea Flour – 50 gms
Salt – 1/2 tsp
Sugar – 1/4 tsp
Garam Masala Powder – 1/4 tsp
Turmeric Powder – 1/4 tsp
Ginger – 1/2 inch piece, finely chopped
Ghee – 1 tblsp
Fennel Seeds – 1/2 tsp
Asafoetida Powder – a small pinch
Oil
For the yogurt sauce:
Corn Oil – 1 tblsp
Cumin Seeds – 1/4 tblsp
Cloves – 2
Onion – 1/4 cup, finely chopped
Plain Yogurt – 100 gms
Coriander Powder – 1 tblsp
Turmeric Powder – 1/4 tsp
Red Chilli Powder – 1/4 tsp
Cumin Seeds – 1/4 tblsp
Salt as per taste
Sugar as required
Green Chillies – 1, chopped
Ginger – 1/2 tsp, julienned
Coriander Leaves – 1 tblsp
Lemon Juice – 2 to 3 tblsp
Method:
1. In a bowl, combine the yogurt with 1 cup of water.
2. Add chickpea flour, salt, turmeric, sugar, garam masala powder and ginger.
3. Keep aside.
4. Heat ghee in a heavy bottomed pan.
5. Saute the fennel seeds for 10 to 20 seconds.
6. Add the asafoetida powder and stir-fry for another 20 seconds.
7. Add the yogurt mixture and cook, stirring regularly, for 15 to 20 minutes.
8. Cook until the mixture becomes thick and has a soft dough consistency.
9. Remove and transfer to a greased pan.
10. Keep in the fridge for about 30 minutes or until set.
11. To make the yogurt sauce, heat oil in a pan over moderate flame.
12. Add the asafoetida, cumin and cloves.
13. Fry for 15 seconds and the onions.
14. Cook till onions are soft.
15. In a bowl, combine the yogurt with coriander powder, turmeric powder, red chilli powder and salt.
16. Add to the pan and allow it to boil, stirring all the time.
17. Add green chillies and 2/3 cup of water.
18. Let it boil again and cook for about 3 to 5 minutes.
19. Add salt as per taste.
20. Add ginger, coriander leaves and lemon juice.
21. Stir.
22. Remove the pan from the fridge and cut into 1 inch squares.
23. Fry the pieces in hot oil for a couple of minutes or until a crust is formed.
24. To serve, either mix the fried pieces into the sauce and simmer for a few minutes before serving.
25. Or, serve them alongside the sauce.
26. Best served with cooked rice.