A classic Greek style salad with fried brinjals, capsicum & spring onions with an optional crumbled cheese on top.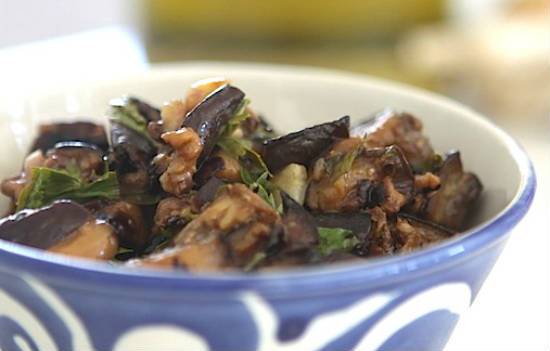 Ingredients:
Eggplants (Brinjals) – 300 gms, chopped
Cheese – 2 tblsp, crumbled (optional)
Capsicums – 2, small, chopped
Spring Onions – 2, finely sliced
Garlic Paste – 1 tsp
Extra-Virgin Olive Oil – 1 1/2 tsp
Red Wine Vinegar – 1 1/2 tsp
Sunflower Oil as required
Salt as per taste
Black Pepper Powder as per taste
Method:
1. Heat sunflower oil in a frying pan over medium flame.
2. Fry the eggplants until lightly browned.
3. Remove and drain excess oil.
4. Transfer to a large bowl.
5. Sprinkle salt and pepper.
6. Toss gently.
7. Mix the olive oil, vinegar and garlic paste.
8. Add this to the eggplants.
9. Add the spring onions, capsicums and mix well.
10. Sprinkle some more salt and pepper, if required.
11. Garnish with the crumbled cheese.
12. Serve at once.