Mutton Korma is a delicious Indian gravy made with mutton/lamb and cooked in an assortment of spices and masala pastes. A perfect side dish for roti, naan or pulaos.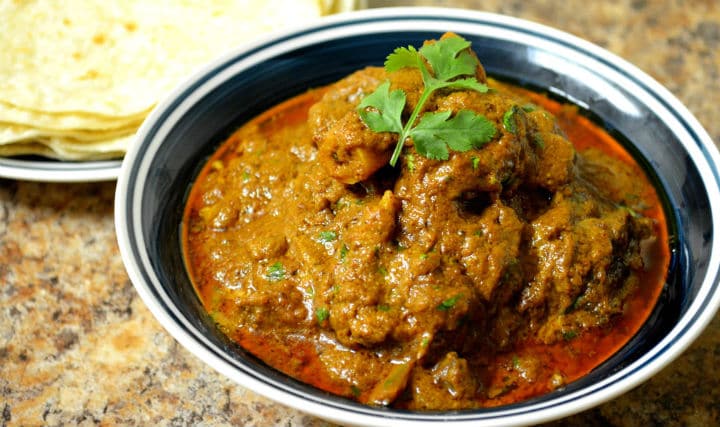 Ingredients
Mutton – 250 gms, boneless, cubed
Cumin Seeds – 1/4 tblsp
Onion – 1/2 cup, finely chopped
Khus Khus Paste (Poppy Seed Paste) – 1/4 tblsp
Cashew Nuts – 1/3 cup, ground to a paste
Ginger Garlic Paste – 3 tsp
Coriander Powder – 1 1/2 tsp
Turmeric Powder – 1/4 tsp
Red Chilli Powder – 1/4 tsp
Bay Leaf – 1
Cloves – 3
Cardamoms – 4
Cinnamon – 1 small stick
Nutmeg Powder – a small pinch
Ghee – 2 tblsp
Oil as required
Salt as per taste
Fresh Cream to garnish
Method:
Heat a small frying pan over medium flame.
Add the cloves, cardamoms, nutmeg powder, cinnamon and cumin seeds
Roast for 10 to 20 seconds and grind to a fine powder.
Heat little oil in a frying pan.
Add the bay leaf and chopped onions.
Saute for a minute or until the onions start to brown.
Add the ginger garlic paste.
Add the mutton pieces and stir well.
Add the ground masala powder, turmeric powder and red chilli powder.
Pour some water and stir.
Add salt and bring to a boil until the mutton pieces are tender.
Add the khus khus paste, cashew nut paste and coriander powder.
Mix well and cook for 5 to 10 minutes.
Remove from flame.
Garnish with cream and serve hot.