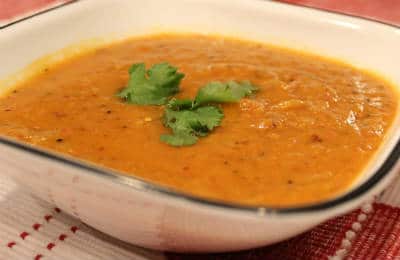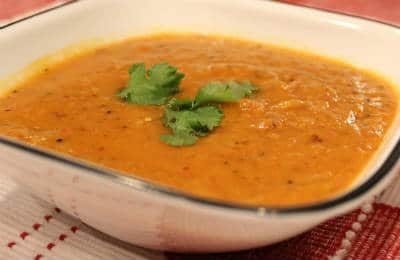 Ingredients:
Onions – 2, finely chopped
Tomatoes – 5, chopped
Turmeric Powder – 1/2 tsp
Saunf – 1/2 tsp
Bengal Gram Dal – 1 tsp
Peanuts – 1 tsp
Coriander Seeds – 2 tsp
Coconut – 2 tsp, grated
Cinnamon – a small piece
Ginger – a small piece
Cardamoms – 2
Cloves – 2
Dry Red Chillies – 3
Tamarind – a small piece
Salt as per taste
Oil as required
For Tempering:
Cumin Seeds – 1/2 tsp
Mustard Seeds – 1 tsp
Curry Leaves – few
Method:
1. Heat little oil in a pan over medium flame.
2. Saute the onions and tomatoes separately and remove. Keep aside.
3. Add a little oil to the pan.
4. Add the saunf, bengal gram dal, peanuts, coriander seeds, cinnamon, ginger, coconut, cardamoms, cloves and red chillies.
5. Fry for a minute and remove.
6. Grind together with tamarind, onions and tomatoes to a smooth paste.
7. Add enough water, salt, turmeric powder to the ground paste and place over medium flame.
8. Bring to a boil.
9. Fry the tempering ingredinets in little oil and add to the sambar.
10. Bring to a boil again.
11. Remove and serve hot.