Hyderabadi Keema (or Hyderabadi Kheema) is a popular and delicious mutton dish cooked in spices and typically served with a boiled egg.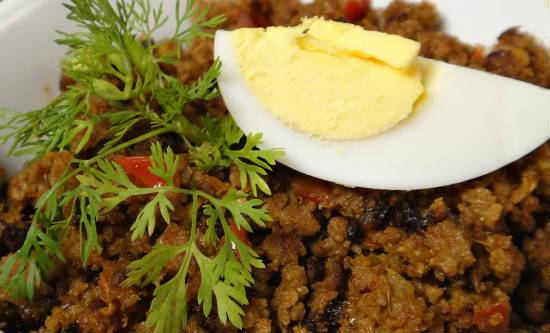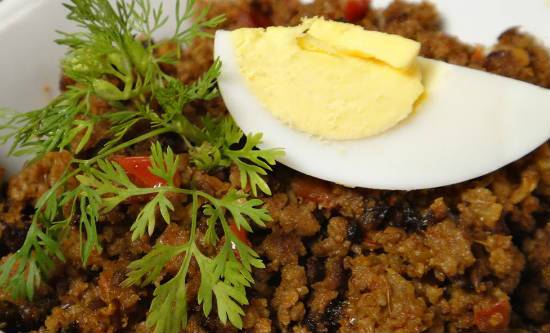 Ingredients:
Mutton – 500 gms, boneless
Onions – 100 gms, chopped
Ginger – 1/4 cup, finely chopped
Garlic – 1/4 cup, finely chopped
Red Chilli Powder – 2 tblsp
Oil – 1/4 cup
Turmeric Powder – 1 tblsp
Coriander Leaves – handful, chopped
Salt as per taste
Method:
1. Finely shred or mince the meat and transfer to a large bowl.
2. Add the ginger, garlic, red chilli powder and turmeric powder.
3. Mix well and keep it in the fridge for 3 to 4 hours.
4. Heat oil in a pan over medium flame.
5. Saute the onions until golden.
6. Add the marinated mutton and cook for a few minutes.
7. Cook until all the moisture from the meat has evaporated.
8. Add salt and stir well.
9. Garnish with coriander leaves.
10. Serve at once.
image via youtube